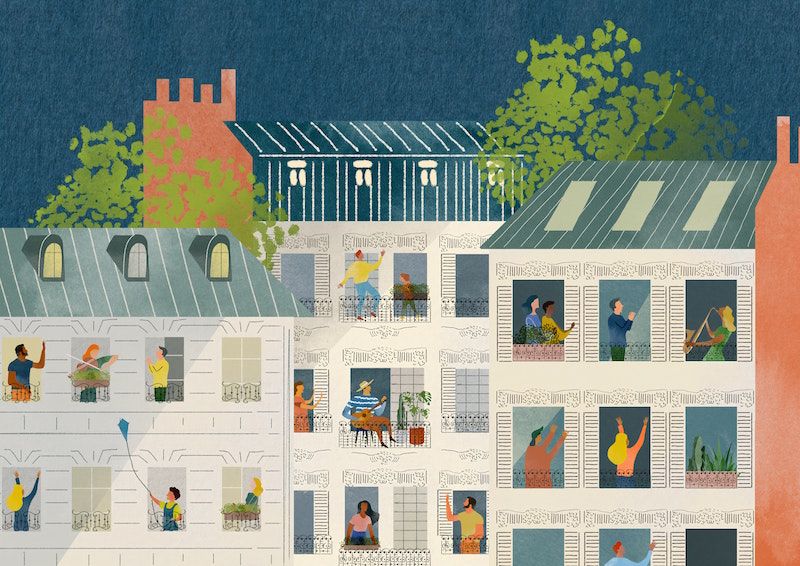 How to Support Your Local Community
It's safe to say that 2020 has not played out in a way that anyone imagined. As we adjust to this new normal, it is important to constantly check up on your friends and family, and support your local community.
It's safe to say that 2020 has not played out in a way that anyone imagined. As we adjust to this new normal, it is important to constantly check up on your friends, family, and the rest of your community. Supporting your local community should continue long after the days of coronavirus are behind us, but now more than ever it's a great idea to show your pride for the place you call home!
Support Local Businesses
One of the best ways that you can support your community is by showing some love to small businesses! These are businesses that people built from the ground up with their soul and passion, and it is always a good idea to support local business owners who may be taking on a more significant financial impact than larger corporations. If there are currently no plans to reopen local businesses, then consider donating or pre-paying for services if you can. Gift certificates are a great way to show support. You can set them aside to use later or give them to friends and family in order to spread awareness for your favorite local shop.
A great way to show your support and create an activity for yourself could be to pick a new local restaurant every week or so and order takeout. You can try new foods and have fun in the process! Leaving a good review is also a great way to show support and continue to spread awareness of your favorite local businesses.
Donate
Now that the cold weather is approaching, it's important to make sure those in your local community have the proper resources available to get through the winter months. If you have old sweaters and coats, then donate them to a local charity or thrift store. Non-perishable food items are also a great resource to stock up on to donate to those in your local community who may be in need.
If your community does not have a charity or donation drive set up, then organize one yourself! Gather your friends and neighbors, and plan to spread the word about your initiative. You could designate one house as the "drop-off center" and donate the items with a group of volunteers to a local shelter or charity.
Some items to consider donating:
Non-perishable food items
Blankets
Coats
Books
School Supplies
Socks
Bath essentials, such as shampoo and conditioner
As the holidays start approaching, organizing a gift drive can be a great way to help those in need. Set a budget and ask your friends and family to purchase new gifts in order to give to those in your community. If possible, consider organizing a socially distanced gift wrapping party with your friends once you receive the gifts to donate. This can be a great way to not only help others, but also create fond memories with your local community.
Volunteer
If donating items isn't feasible for you, consider donating something else--your time! Volunteering in your local community is a great way to help and support others. Volunteering may look a little bit different than it did pre-pandemic, but it is certainly still possible!
Many older residents and those with underlying health concerns may not have many opportunities to see their loved ones, so consider writing to a senior near you or your older neighbors. Creating a pen pal correspondence can be a great way to volunteer your time and spread some positivity into someone else's life.
Now more than ever, people are looking for someone to talk to as they experience this new era of isolation and increased anxiety about the future. Even if you are not dealing with these issues yourself, it is safe to say that this year has taken a toll on many people's mental health. A great way to volunteer is to give your time to a crisis hotline. There are a few options out there, so do your research before you volunteer to help out. If talking on the phone is not your cup of tea, then look for services that allow you to volunteer via text.
Another great way to give your time to your local community is by delivering meals and running errands for your neighbors. There is definitely still some risk associated with going to the grocery store, so if your vulnerable neighbors feel uneasy running errands all the time, then help them out! A great way to reach out is by delivering letters and postcards to neighbors letting them know how to contact you and what you can do. This way they will have your information and they can reach out when necessary.
Although masks are much more accessible now than they were at the start of the pandemic, you can still gather your friends and family and sew your own masks. It's a great idea to not only make these for yourself, but also to donate to non-medical hospital staff or vulnerable members of your local community.
As we move towards a new online lifestyle, many students are left feeling nervous and uncertain about their future. A great way to offer your time and support is to mentor some young people. Reach out to your former high school and see if the counselors or career center would be willing to give your contact information to students who may be looking for some extra guidance. If you are currently in college or have graduated, you can be a valuable resource for seniors looking to apply to jobs or colleges but are unable to visit campuses due to COVID restrictions. Whether you give college tips or offer a virtual mentorship, this can be a great way to give back to young people in your local community.
Helping your local community is a great way to uplift your spirits, as well as the spirits of those around you. These are just some tips to get you started. Use your creativity and reach out to your community members to find ways to support each other!
---