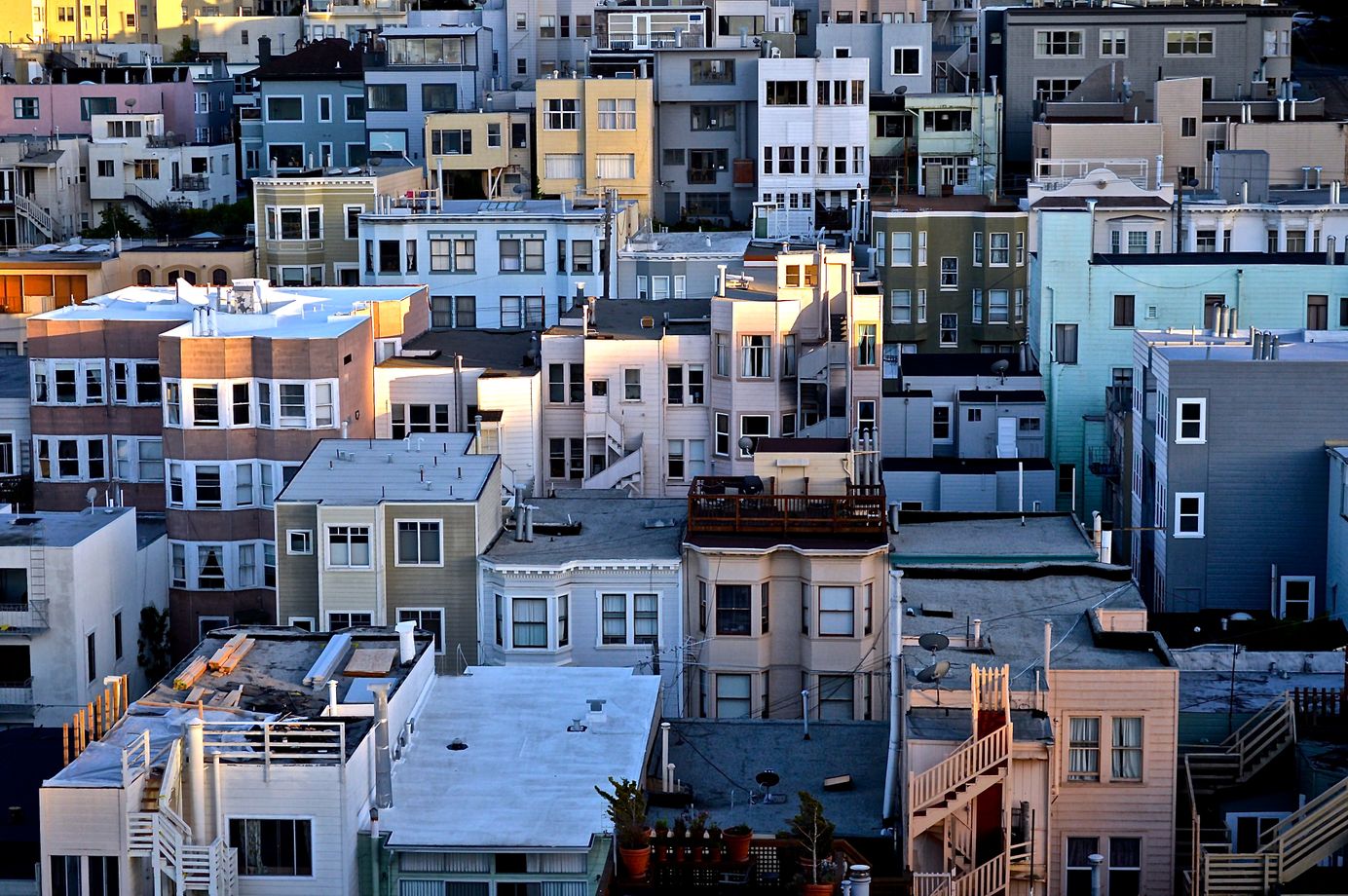 Is a Landlord Responsible for Lead Paint?
We all know the dangers of lead paint, but who is responsible for lead in a rental property?
Older properties have their charm, but they can also be hazardous. If your property was built before 1978, there is a possibility it contains lead paint.
Under federal law, landlords are required to disclose the presence of lead paint, but they are not required to remove it. However, state laws may have different requirements. If the lead is deteriorating, it may be considered a lead hazard. In this case, landlords should seriously consider removal due to demonstrated danger to tenants and the potential for legal action.
Dangers of Lead-Based Paint
Lead was originally added to paint to help it resist moisture and dry more quickly. In 1978, the U.S. government banned lead based paint for consumer use. Unfortunately, even though it was no longer in circulation, the damage had already been done. According to the Environmental Protection Agency (EPA), approximately 64 million homes built before 1980 (~89% of private housing) contain lead paint either on the interior or exterior surfaces.
Exposure to lead paint can cause lead poisoning; it is especially harmful to young children and pregnant women.
According to the EPA, victims of lead poisoning may experience the following symptoms:
Symptoms in children
Kidney damage
Nervous system damage
Learning disabilities
Hearing damage
Decreased muscle or bone growth
Speech development problems
Symptoms in adults
Nerve disorders
Fertility problems
Muscle or joint pain
Digestive issues
Memory and concentration problems
High blood pressure
Harm to a developing fetus
If lead paint is properly sealed, the risk of exposure is minimized. However, this is not a permanent, long-term solution.
Lead paint becomes most dangerous when it starts to deteriorate. A prime area for deterioration is window sills and frames, as the movement of opening and closing a window may cause the paint to crack or peel.
If lead paint chips off, it is possible for children to ingest the paint chips they find while playing on the floor. If the paint loosens from its surface, there may be lead dust that collects on the carpet or floor where children play. If young children put their hands in their mouths, the lead dust from the floor enters their system and is easily absorbed by their growing body.
While lead poisoning can be treated, any damage cannot be reversed.
Landlord Responsibilities for Lead Paint Disclosures
While lead paint was banned in 1978, many residents were still harmed by the effects of lead paint in their homes. Most had no idea lead paint was present and that they were at risk.
The Residential Lead-Based Paint Hazard Act 1992, also known as Title X (Title 10) changed the requirements for landlords renting property built before 1978. Title X requires landlords to disclose any known lead paint hazards and inform their tenants about the risks of lead paint.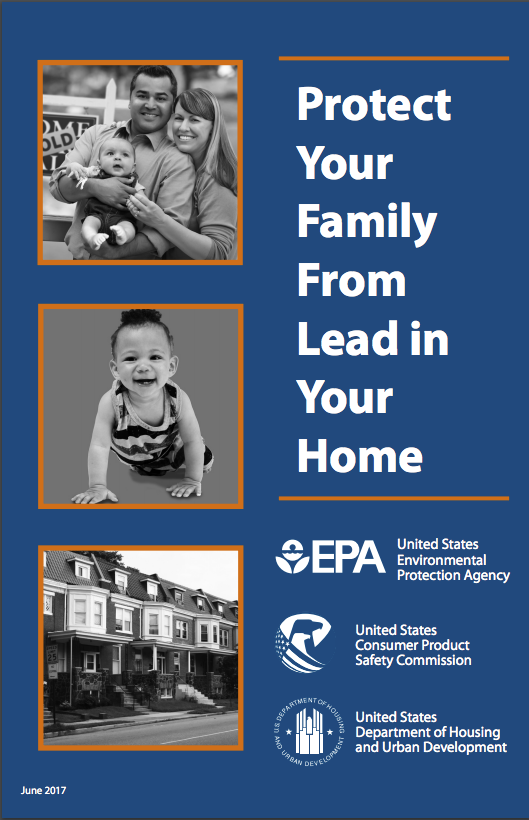 Title X specifically requires that landlords:
Provide an informational lead paint pamphlet ("Protect Your Family from Lead in Your Home") issued by the Environmental Protection Agency (EPA).
Disclose any known presence of lead based paint. This includes disclosing known locations and the conditions of the walls.
Provide tenants with documentation if the property has ever been tested or treated for lead paint.
Include a lead-paint disclosure clause in the lease agreement.
Once you have a signed lease, be sure to keep a copy for your records for 3 years. At renewal, you do not need to make the same disclosures again; once is sufficient.
State and local laws may impose additional requirements. For example, while federal law does not require landlords to check for lead, landlords in New York City must visually inspect the unit for lead paint hazards at least once a year if any children under the age of six reside there.
Failure to follow these steps opens the door to fines or legal action if the tenant is injured as a result of lead paint in your rental unit. The best course of action is to follow the law and provide the necessary disclosures up front.
Exemptions to Lead Paint Disclosures
Not all landlords are required to disclose the presence of lead paint. If the property was built after January 1, 1978, or if a state certified lead inspector has declared the property lead free, then there is no need for the landlord to make a disclosure.
Other exemptions include short term rentals (fewer than 100 days), studio apartments, a single room in a home, and elderly or disabled housing not inhabited by children under six years of age.
Landlord Responsibilities for Renovations and Repairs
Even if you followed all the above steps for giving your tenants the necessary disclosures, there are additional steps you must take when making major repairs or renovations to property built before 1978.
The EPA defines a renovation as any changes to the property (or common areas) that disturb a painted surface. For example, this could be removing a wall, installing new windows, or  scraping/sanding paint.
For renovations, the contractor must be certified to deal with lead-based hazards. The EPA offers this kind of certification.
Before starting renovations in buildings built before 1978, either the landlord or contractor must give tenants lead hazard information in the form of an EPA renovation pamphlet ("The Lead Safe Certified Guide to Renovate Right"). Note that this pamphlet is for renovations; it's different from the disclosure pamphlet provided to tenants before move-in.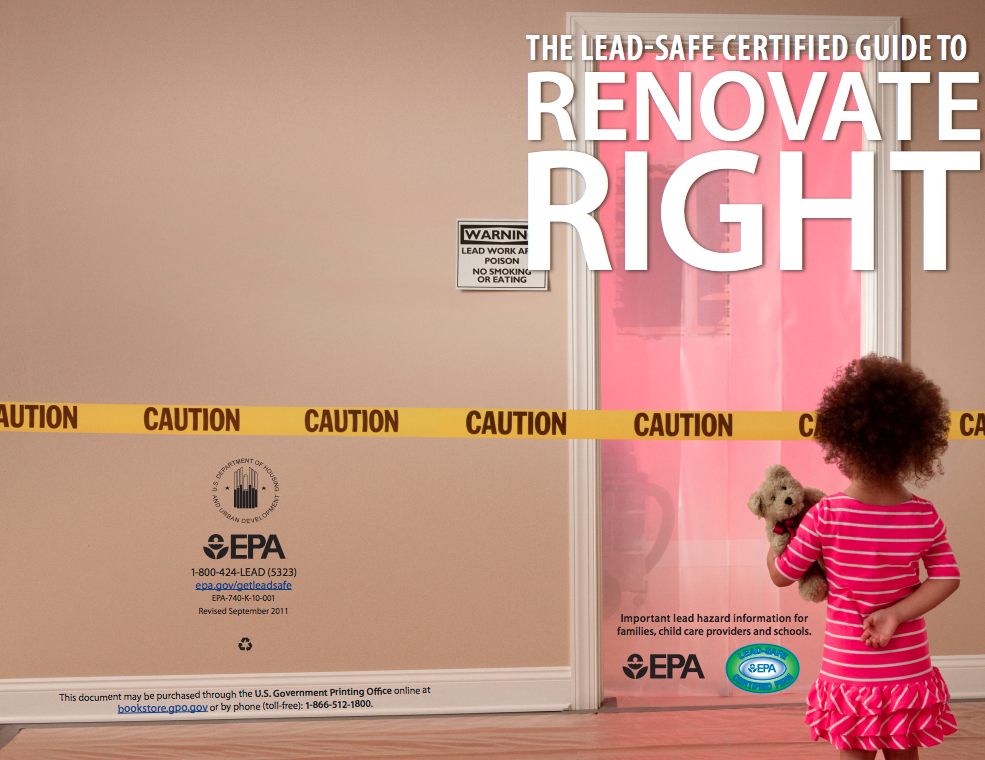 The renovation pamphlet may be mailed or hand-delivered. If you choose to mail it, make sure you send it no later than 7 days before the renovation is scheduled to begin. Obtain a mailing certificate for proof of your due diligence. Similarly, tenants should not receive this pamphlet any earlier than 60 days before the renovations are scheduled to begin.
Related: Rental Property Repairs vs. Improvements
Exceptions to the Renovation Law
There are some exceptions where you do not need to provide EPA pamphlets or hire a lead certified contractor:
If the property has been declared lead-free
If an emergency event (such as a fire) requires you to make immediate renovations
If repairs are minor (affecting less than 6 square feet of a room's painted surface or less than 20 square feet on the property's exterior)
If you plan to renovate a common area in a building with three or fewer units
Should a landlord test for lead paint?
With all the different laws for disclosure and renovation, you may have noticed that there is no federal law requiring landlords to test for lead paint. If your property was built before 1978, should you test for lead?
While many landlords would want to know, others feel like conducting the test is like opening Pandora's box. Once they know, they have to make more disclosures and potentially lose profits—either from vacancies or from lead abatement procedures.
While it may seem easier not to test, there are several good reasons to test for lead. Here are some reasons why ignorance isn't bliss.
Liability
Since the presence of lead paint in buildings built before 1978 is so well-known, claiming ignorance may not protect you in a court of law.
If lead paint is deteriorating to the point of becoming a health hazard, landlords may be required to remove it.
While giving the proper disclosures will help limit your liability, it may not completely protect you if a child gets lead poisoning on your property.
Lawsuits for lead poisoning are much more costly than removing it in the first place.
Insurance
In order to insure your property, your insurance company may require you to test for lead. Since lead paint lawsuits are so expensive, some insurance policies have stopped covering lead paint liability. Check with your insurance provider for the details of your policy and how testing for lead would affect you.
Selling the Property
If you decide to sell your rental property, potential buyers or their lender may request you to test the property for lead.
Peace of Mind
Living with the nagging fear that something on your property could be causing illness or developmental delays is not something to take lightly. While following the law is the bare minimum requirement, landlords may want to consider the ethical implications of choosing whether or not to test for lead. Being able to deal with the problem head-on can give property owners an enormous sense of relief once the danger has passed.
Should a landlord remove lead paint?
The answer to this question depends on several factors. If lead paint is sealed or encapsulated, it may not pose an immediate health risk. If, however, the paint is chipping, cracked, or flaking, landlords should consider some kind of abatement strategy. In any situation where a landlord is considering removal, it's important to contract the help of a certified lead abatement professional.
Lead professionals may recommend either encapsulation or removal. Painting over the affected area with a special encapsulant will seal the lead paint. Once the encapsulant is in place, more paint can be added on top. While this may lessen the effects of the lead paint, it may not be a long-term solution, especially if the lead paint has started to bubble and chip.
In more extreme cases of peeling and chipping, the affected area may be declared a lead hazard. In this case, complete removal is called for.
The EPA has recommendations for how to test and assess the risk of lead based paint in your home. This will usually start with a certified inspection. If lead is discovered, the inspector can go over strategies for containment or removal.
Final Word
Exposure to lead paint poses serious health risks to residents. Landlords are required to make the necessary disclosures before a tenant moves in and before renovation work is done. If the lead paint is deteriorating to the point of becoming a hazard, landlords should consider how best to contain or remove it from their property.

Related: Is a Landlord Responsible for Asbestos?
Related: Is a Landlord Responsible for Mold?
---