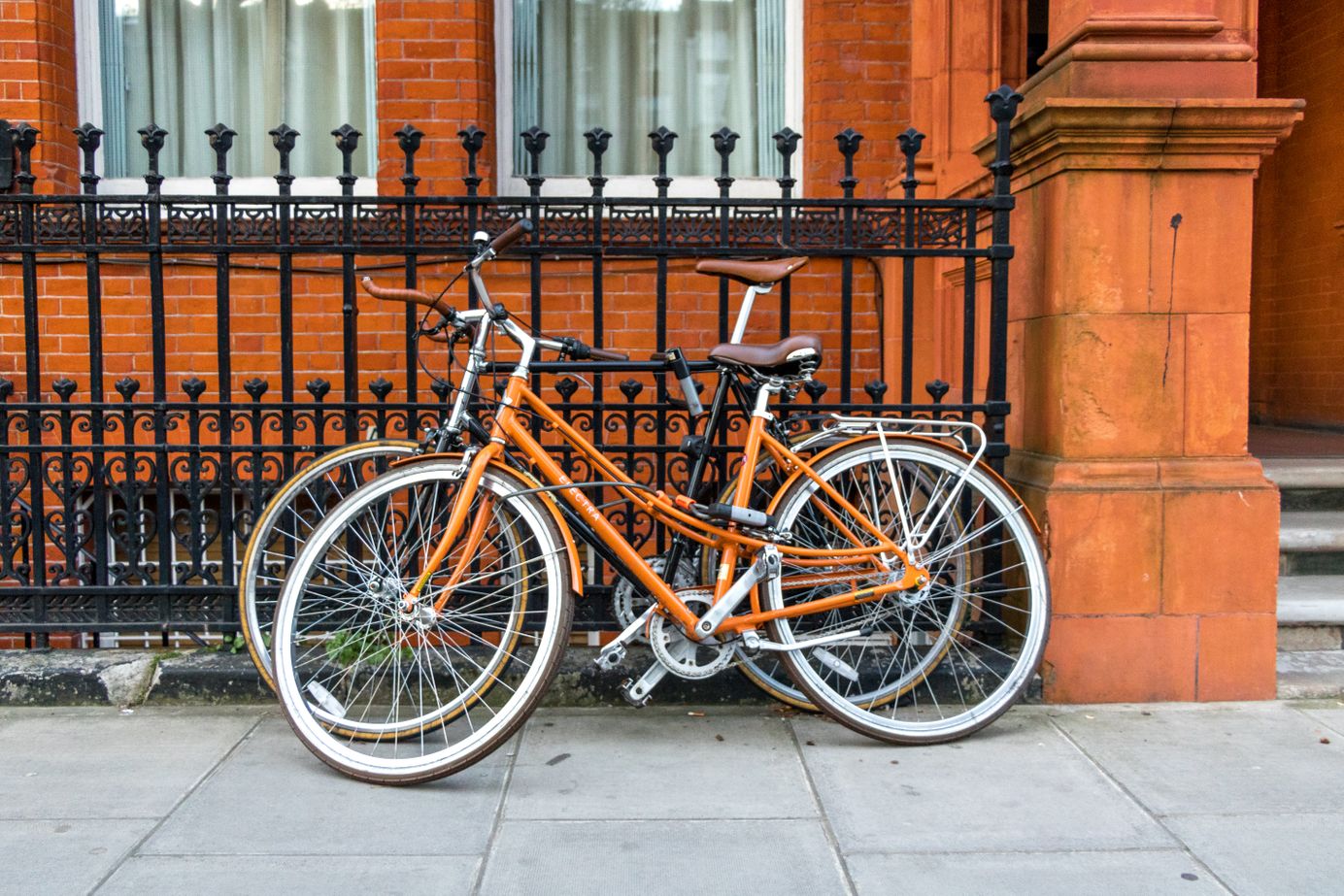 What Do Millennials Want in a Home?
The National Association of Home Builders analyzed research studies on what millennials look for in a home. Here's what we learned!
You've seen the headlines. Opinions abound on what millennials want in a home, but where's the data? The National Association of Home Builders (NAHB) analyzed several research studies on millennial home buying trends, and here's what we learned.
Millennials Want New Homes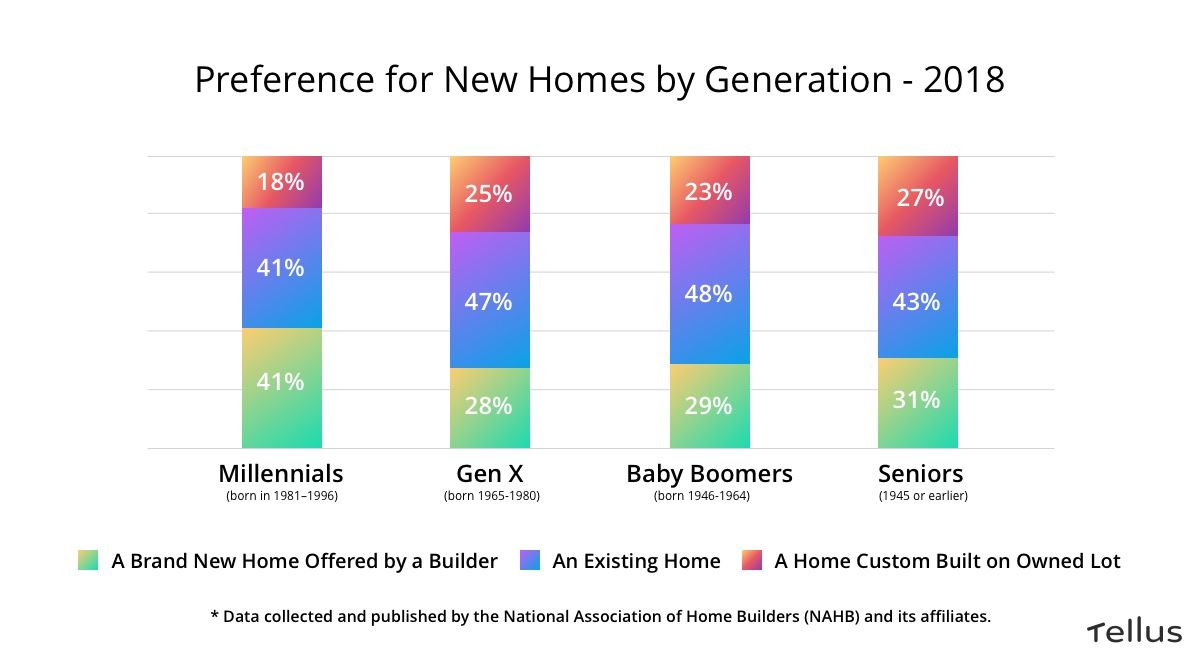 NAHB reported the majority of the housing market, which includes Millennials, Gen X, Baby Boomers, and Seniors, favored existing homes. The analysis also showed a growing trend for new homes offered by builders amongst millennials. Let's examine the data:

In 2007, 28% of millennials preferred a new production home, while 37% desired a custom-built one.

The following years saw a reversal. 41% of millennials favored new homes in subdivision tracts, and preferences for custom-built homes fell to 18%.

Although the reasons for the shift are not stated in the analysis, cost may be one. Custom-built homes are expensive to build. They are site-specific—built on the future homeowner's land—and every detail is up to the homeowner. On the contrary, the more affordable production homes allow for custom features, and land cost is included in the home's price.

Given the financial difficulties many millennials face, the shift to production homes makes sense. PwC reported 34% of millennials are unhappy with their financial situation, and more than 54% worry about student loan debt. Based on these various studies, millennials who are on the path to homeownership show a willingness to make compromises.
Millennials Will Compromise Size for Price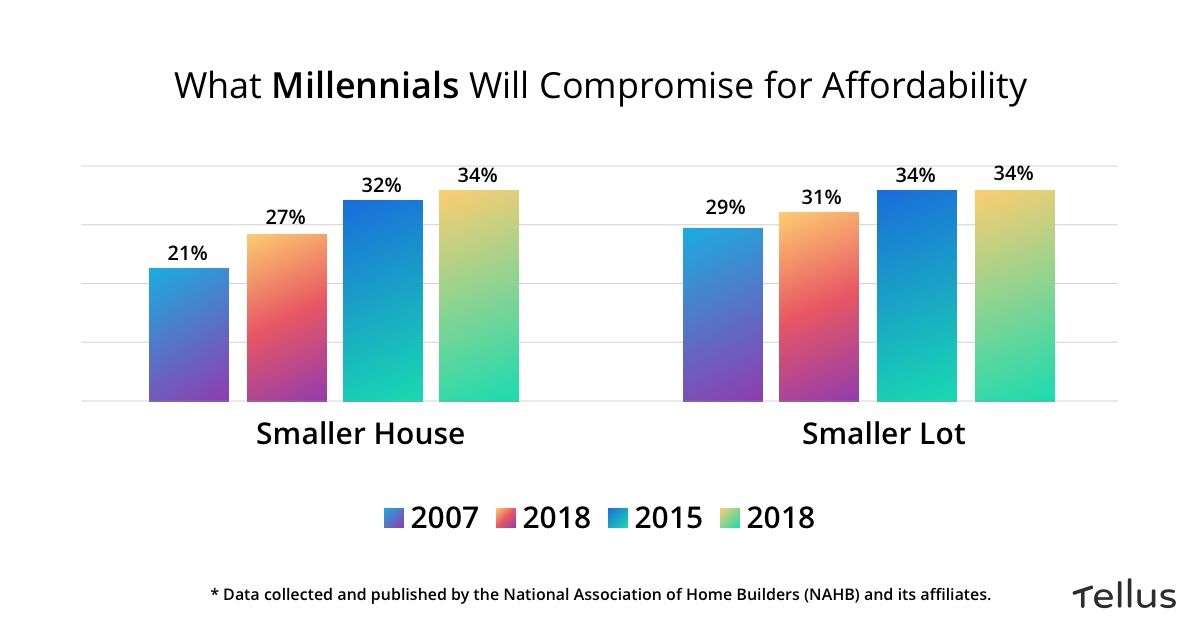 According to the Census Bureau, only 35.4% of millennials under 35 own a home. Homeownership for this age group is less than it was 20 years ago. Of course, home prices are higher than they were for previous generations. Other factors, like student debt, is another reason for the decrease. Regardless of financial setbacks, millennials are willing to give up space to become homeowners.

NAHB's data shows an upward trend of millennial buyers' willingness to sacrifice size for affordability. In 2018, 34% of recent and prospective home buyers preferred a smaller house, an increase of around 62% from what respondents selected in 2007. Surveys reported similar findings for smaller lots.

Just how small are these homes millennials are buying?

On average, millennial-owned homes are less than 1,650 sq. ft and cost less than $150,000. Under the right conditions (social, economic, and local market), millennials are buying houses, but they are also willing to be flexible. Nevertheless, millennials, like other generations, have a list of must-have home features.
Millennials Prefer a Home in the Suburbs

If you assume most millennials prefer to live in the central city, you are not alone. NAHB reported that while millennials are showing an increasing desire to live in an urban setting, they are the minority. In 2007, 6% of millennials favored city living. That percentage jumped to 23% in 2018. Despite that upward trend, millennial home buyers favor the suburbs, including the outlying suburbs. After all, homes and apartments in the city center are costlier.

Another factor to keep in mind are many millennials are starting families. Because urban living carries a huge premium, millennials are looking to the suburbs for more affordable houses and the best school districts.
Features Millennials Want the Most

NAHB surveyed recent and prospective home buyers and asked them to rank a list of home features on a four-value scale. We'll only look at the "Desirable" and "Essential/Must Have" features.
Layout

The open floor concept is popular amongst millennials (as it is for other generations), and a vast majority want a home with at least three bedrooms and two bathrooms. More than half of millennials preferred two-story homes, as opposed to 35% who desired a single-story house. Interestingly, the data shows an overwhelming number of Boomers prefer a single-story home, a trend often seen in aging populations. Although single-story homes are easier to maintain, privacy, separation of spaces, and appeal of a two-story building may be more fitting to millennials and their growing families.
Amenities

High on a millennial's list are laundry rooms. It is the most preferred amenity by 86% of respondents. Millennials have also expressed their housing preference for hardwood front exteriors, patios, garage storage, and walk-in pantries. The least desirable amenities were wine cellars, laminate countertops, and golf courses.
Below are the features millennials rated according to the following four-tier scale:
Essential: Unlikely to buy a home without feature
Desirable: Seriously influenced to buy home if included
Indifferent: Would not influence purchase decision
Do Not Want: Not likely to buy a home with feature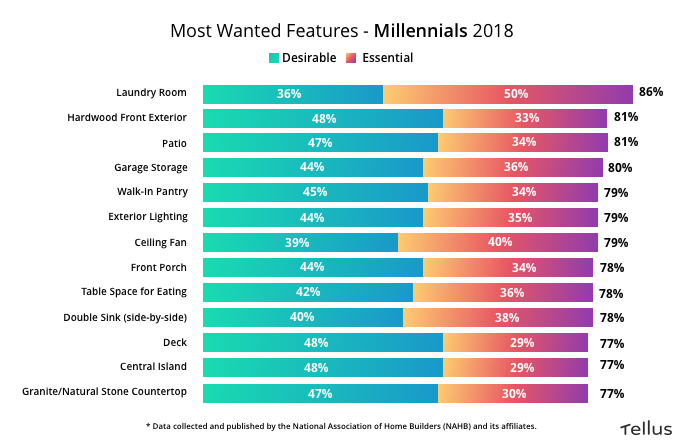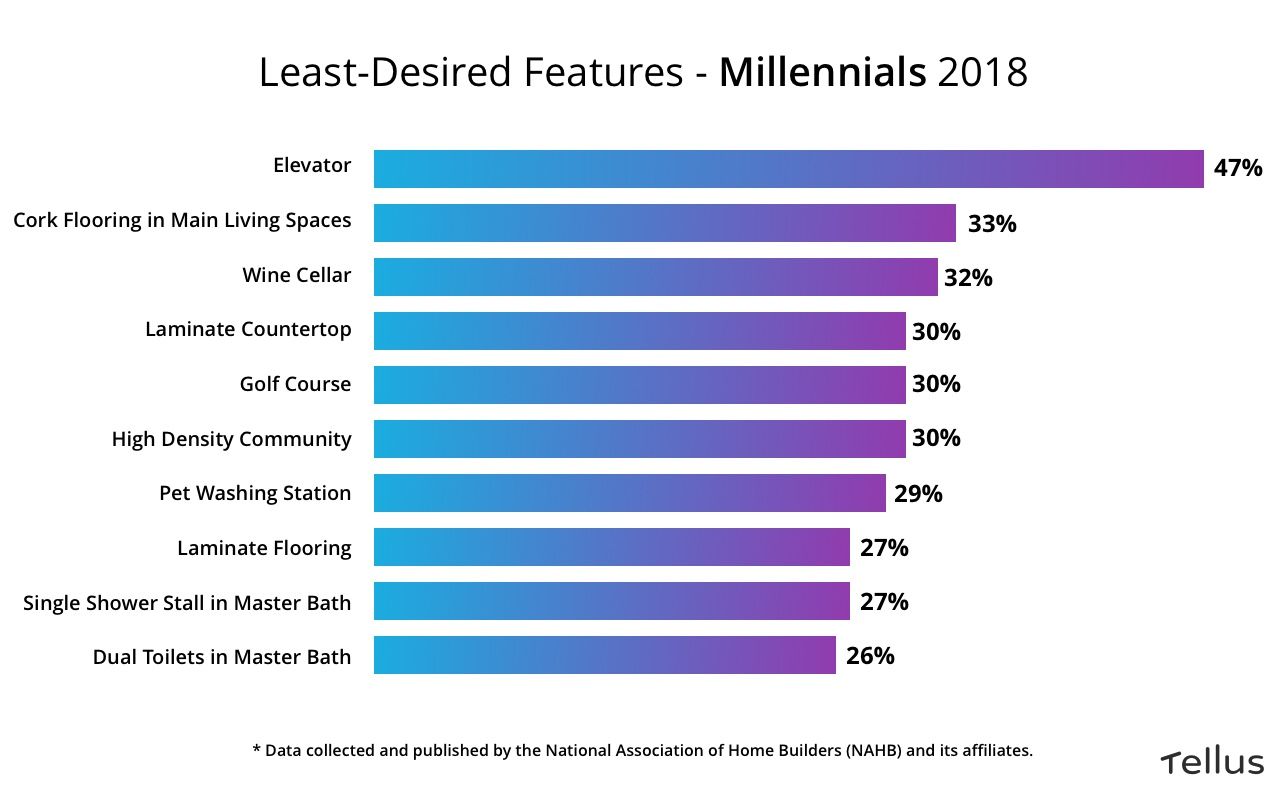 A Review: The Millennial Home Buying Trends

Based on the data collected by NAHB, millennials are looking for:

Small, two-story houses
New homes in subdivisions
Specialty purpose rooms
Family-friendly amenities
Energy-efficient and smart devices
Final Word
It's inaccurate to say millennials aren't buying homes. First, the data shows millennials pick homes based on their finances rather than on their need for space. Second, they are playing catch up. The Wall Street Journal cited student debt, the financial crisis, and stringent lending requirements as a few of the causes delaying a boost in millennial home purchases. When the pace does pick up, how housing developers respond to the unique needs of millennials may bring the buying surge we've all been waiting for.
---