How Tellus Works
We issue loans to our best landlords on only the most stable, income-generating properties to create a profit that can reliably sustain a 3.00% return for all our savers.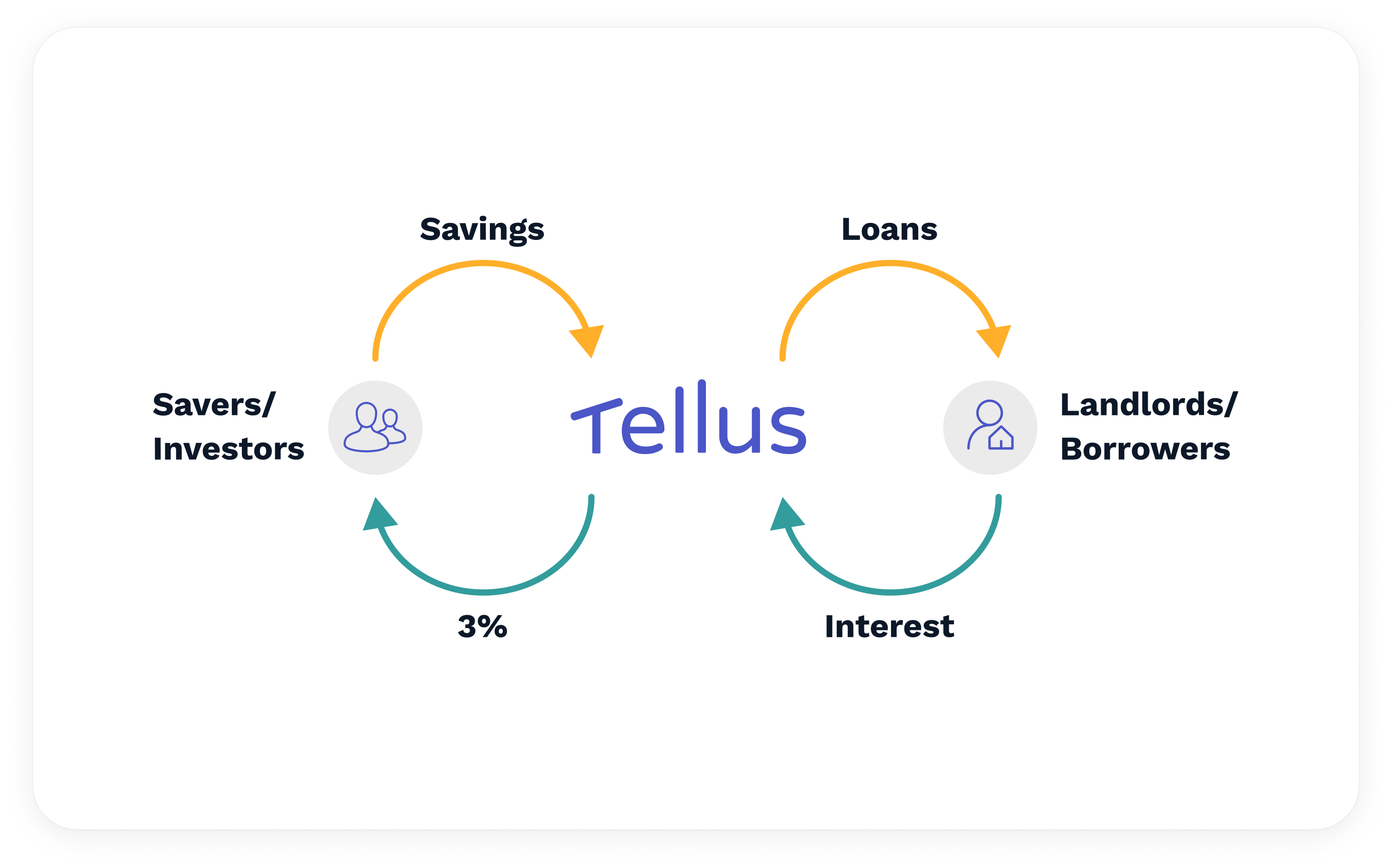 Frequently Asked Questions
What is Tellus? How does Tellus work?
Tellus is a savings, purchasing and investing app. We pay you an APY interest yield once you deposit your funds with us.  Even if you never ever purchase or invest in anything at Tellus, you earn the interest and you get to keep all of that interest. Whenever you want the money returned, you are returned your money plus the interest you earned.
How does Tellus afford to pay me such a high interest rate?
Tellus invests in higher-yielding assets secured by residential property so that you can be assured that you will always benefit with a better interest rate. We generate revenue by issuing loans secured by residential real estate. We use technology and proprietary data to choose opportunities so that we can minimize loss and fraud; this lets us pass the profits onto you in the form of highly competitive yields.
Is my money safe? Can I always get my money back?
Yes, your money is safe. You will always get your money back and you can withdraw at any time (certain deposits are subject to an "aging" requirement -see below).
Is my money secure in the app?
Yes, Tellus is safe and secure. We use bank level encryption to store and transact any sensitive or personally identifying information. We use Plaid and Stripe to connect to your bank account and we never store your banking credentials. We take security extremely seriously and so when we use external partners, we work only with reputable, leading firms. We currently work with Chase Bank, Stripe and Plaid - all leaders in payment and financial technology - so we are confident your information and money is always safe and secure. All cash held by Tellus is deposited and custodied at The Chase Bank (JP Morgan Chase).
What is your security commitment?
We are absolutely serious about keeping the Tellus community a safe place for our users and partners. Tellus and our banking partners will report and prosecute any fraud incident. We timely compile detailed fraud incident reports and we diligently deliver critical prosecutorial data to federal and state law enforcement. We will report financial crimes to the financial crimes unit of district attorneys and law enforcement in all 50 states.
Can I withdraw my money at any time?
Yes, you can withdraw your money at any time. Tellus is serious about fraud and security, so we do have "aging" requirements for certain deposits that must be met prior to withdrawal. See below for details.
What is aging for ACH transfers?
There is a 60-day aging requirement for ACH transfers in order to prevent fraud. We want the Tellus app to be a safe, enjoyable experience for everyone. You are always paid the same interest while your money ages. Aging is not required for funds transferred to Tellus via a wire transfer (or other mechanism).
How do the interest payments work?
Interest is paid and compounded daily at 12AM PST. We pay you interest daily so that you can have financial peace of mind and know that your money is working for you non-stop. The funds are automatically added to your app and every time you log back into the app you can see how much you've recently earned. There is a minimum balance of $200 required to accrue daily interest. We do not pay fractional pennies.
Is Tellus FDIC-insured?
No, we are not. FDIC stands for "Federal Deposit Insurance Corporation" and its only function is to insure banks in the event of bank failures. This means that if a bank fails the insurance covers customer deposits in that bank up to $250,000 per customer. We are not a bank, so becoming FDIC insured does not apply to us. Your deposits are protected by a pool of recorded deeds of trust.
Are there any fees?
There are no fees for opening or using Tellus. We believe in radical transparency with our users, what you see is what you get! While Tellus has no fees, your bank might charge fees based on their terms of service, and we will notify you if you are charged by your bank or financial institution or if there is a flow-through fee. For example, certain low threshold transfers may trigger a transfer fee from your bank.
What personal information do I need to give and why does Tellus need my social security number?
No personal information is required to download the app. An email or phone number is all that is needed to sign-up. In order to deposit money and earn interest, Tellus requires personal information. We require your social security number (or other tax identification number) because interest earned at Tellus is potentially reportable income. 

Is there a limit on the number of withdrawals?
No, we do not limit the number of withdrawals. 

Do I start earning interest right away?
Yes, you earn interest when your money shows up in the Tellus, starting at midnight, 12am Pacific Standard time. And rather than waiting until the end of the month, you'll earn interest every day with Tellus.
Do you pay interest on my entire balance?
Yes, we pay interest on your entire balance, every day.
Does Tellus sell my personal data?
No, Tellus does not sell your personal data to anyone.
Do I need to pay taxes on the interest earned at Tellus?
The interest received from Tellus is subject to federal and state income tax (where applicable). As per current laws, any earned interest exceeding $10 in a year will be reported to the IRS. At the beginning of the following year, 1099-INT tax form will be made available for customers in the app which you can use to file your taxes for interest earned. Tellus interest is taxed as interest income, not as capital gains. Capital gains tax rates apply only to assets that appreciate in value when sold, like stock shares.
Do I need to maintain a minimum balance in my Tellus?
Yes. We require a $200 minimum balance.
Can I close my account?
You may close your account and terminate your relationship with us without cost, provided that your money has aged (see above regarding aging). There is no fee for closing an account. All funds will be returned to you.
What types of accounts can I link to Tellus?
You can link or unlink certain payment methods such as a debit card, credit card, or a U.S. bank account to your Tellus. Please keep your payment method information current (e.g. credit card number and expiration date).
Do I get statements?
Real time account information and your account activity is available to you at all times and is updated to the second. You may view your account details by logging into Tellus via the app.
Can anyone use Tellus?
Yes, anyone over the age of 18 unless otherwise required by state law. You are only allowed to set up your own account and not on behalf of anyone else. We allow international (non-U.S. citizen or non-U.S. resident) users.
Will my credit score be impacted by using Tellus?
Zero impact to your credit score. We do not report your activity to any credit agency nor do we pull your credit report.
Is there customer service?
Yes, we have customer service in the app and via email that responds to your needs.