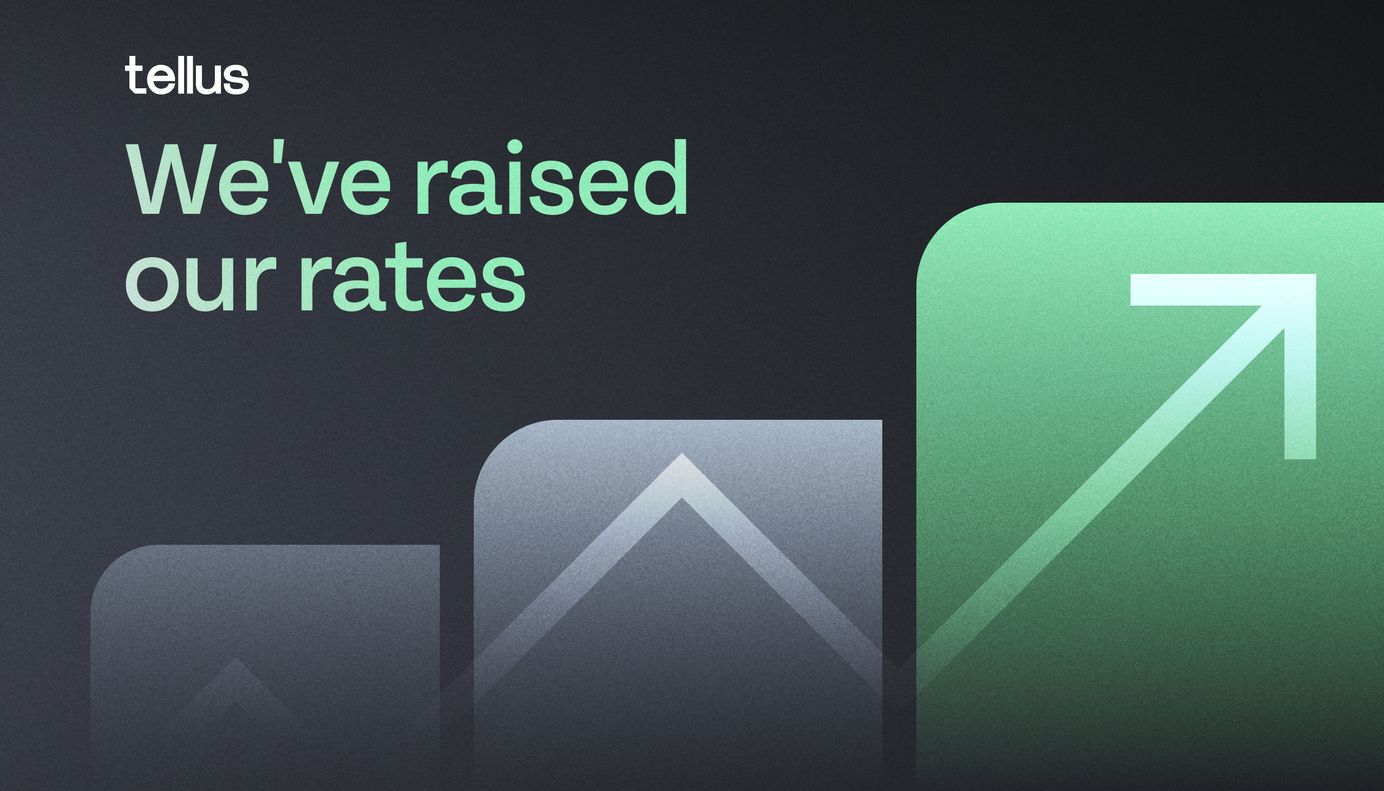 Tellus has raised its rates. Enjoy 3.85%-5.12% APY on your savings with Tellus.
Earn even more on your savings.
We're excited to announce that deposit rates across all of our savings products are going up!
As you may know, the Federal Reserve has been raising interest rates all year to try and curb inflation. Our team has been closely monitoring the rate changes and following key developments in the economy to determine the right rates for our members.
On October 21, 2022, we raised our base rate from 3.00 to 3.40% APY for Boost Account.
Today, we're raising our base rate again from 3.40% to 3.85% APY along with rate increases for Reserve Account and Vaults! And for the first time ever, you can lock-in a savings rate higher than 5.00% with no balance limit and no fees. See product rates schedule below for details.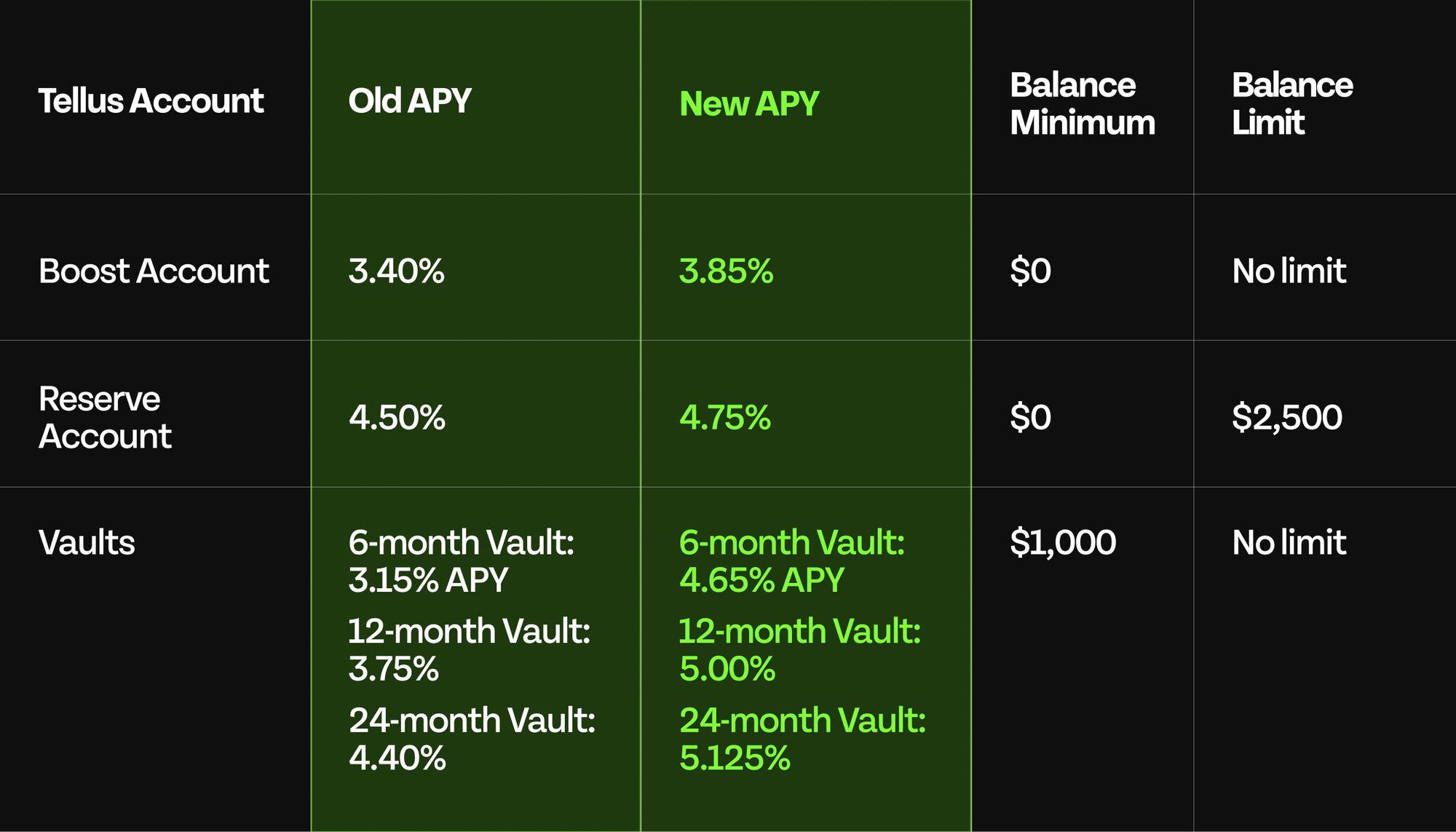 How do these new rates stack up against savings rates offered by big banks and online banks?

When was the last time a big bank gave your savings a boost?
The numbers don't lie. Big banks are still offering you the same measly savings rates. What's more, many of the biggest US banks are still charging fees.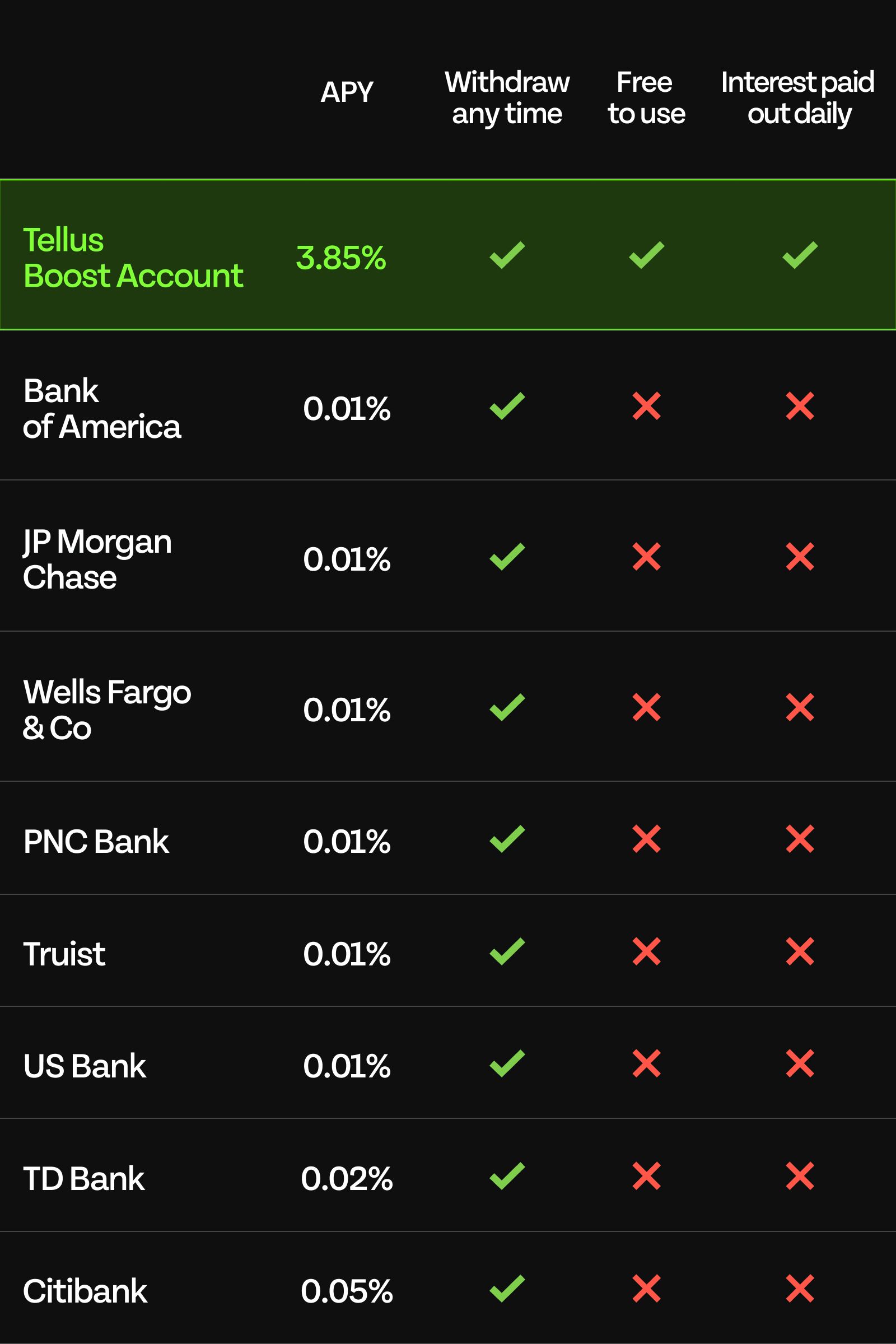 Let's face it: a traditional bank savings account does not help you save.  
You deserve more.
What about high-yield savings accounts? High yield savings accounts typically pay a much higher APY than traditional savings accounts. But as you can see, Tellus beats those rates too (with just its base rate).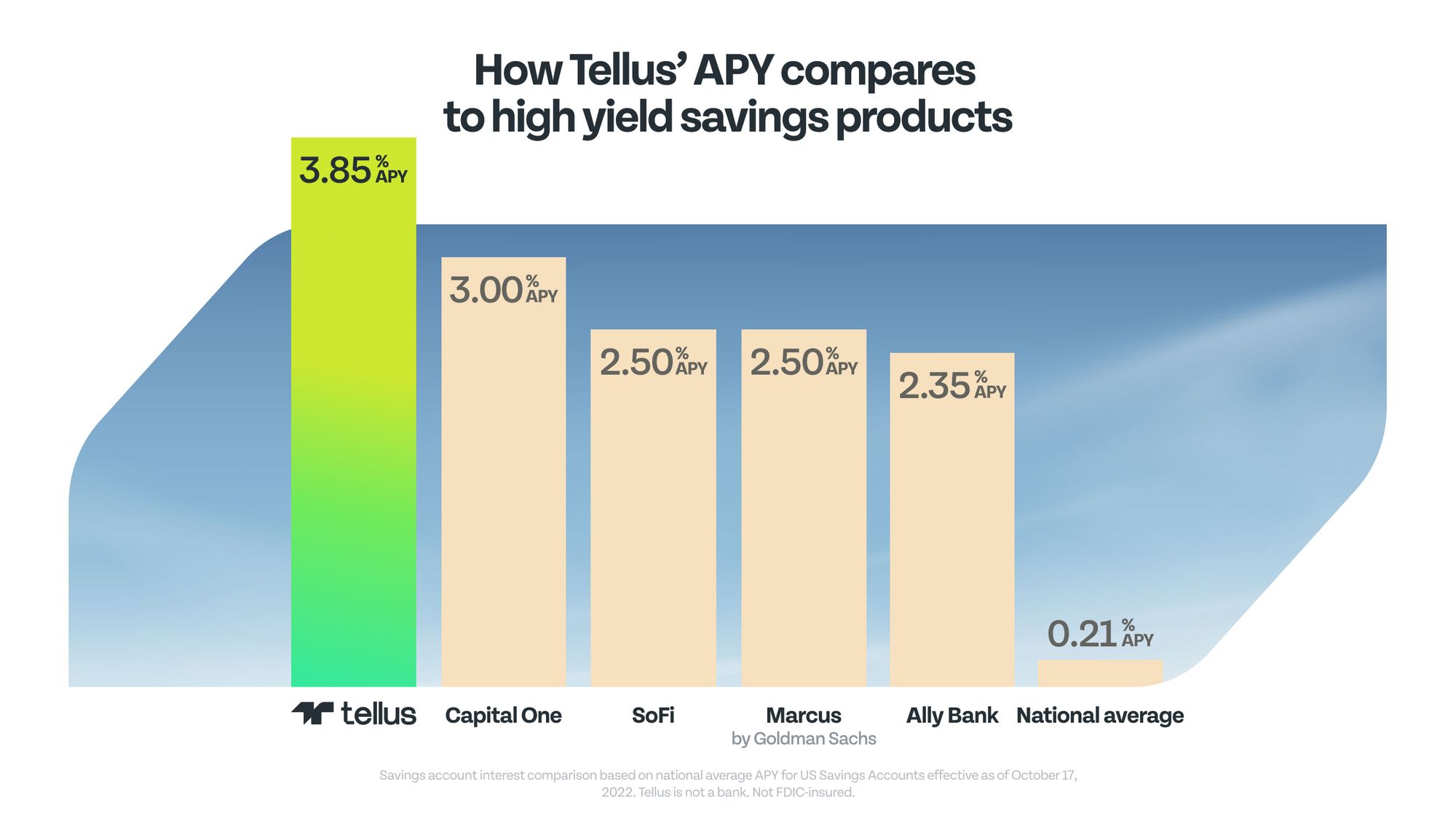 How does Tellus stack up against the markets?

Today is the day to switch from investor to smart saver.
The stock market has seemingly gone from bad to worse in 2022. If you invested $20,000 in the S&P 500 at the beginning of 2022, you would have about $16,770.41 at the end of 2022, assuming you reinvested all dividends. This is a return on investment of -16.15%, or -20.93%. Ouch.
On the other hand, if you had saved that same amount with Tellus at the beginning of 2022, you would have at least $20,637.50 at the end of 2022. We're assuming you'd put $2,500 in your Tellus Reserve Account (earning an awesome 4.50% APY) and the rest in your Tellus Boost Account (earning a base rate of 3.00% APY). Note: You can now save even more with our new rates.
Not convinced?
The crypto market hasn't done much better.  
According to data compiled by Finbold, the number of Bitcoin millionaires fell by around 70% in the first three quarters of 2022 due to the bear market.
Earlier this year, the cryptocurrency market lost almost $1 trillion in market cap, culminating in a run of bankruptcies involving crypto hedge funds and lenders, including Celsius Network, Voyager Digital, and Three Arrows Capital. Firms Blockchain.com and Coinbase were also forced to scale back operations.
And while the crypto industry has seen some positive developments in the last couple of months with many crypto investors betting that the market will rebound by the end of 2022, the cryptocurrency market is still highly volatile and largely unpredictable.  
If you're looking to earn a high yield on your savings, while staying out of the markets and away from market volatility, now is a great time to try Tellus.
With Tellus, you can enjoy:
High yields of 3.85% to 5.12% APY (2x more yield than the current S&P 500 dividend yield)
No fees
No crypto or stock exposure
Interest paid daily
The ability to withdraw anytime
Bank-level security
So what are you waiting for? Open a Tellus account and lock-in a smarter savings rate with no fees.
If you are already a Tellus member, the new rates have automatically been applied to your Tellus Boost Account and Reserve Account.
---