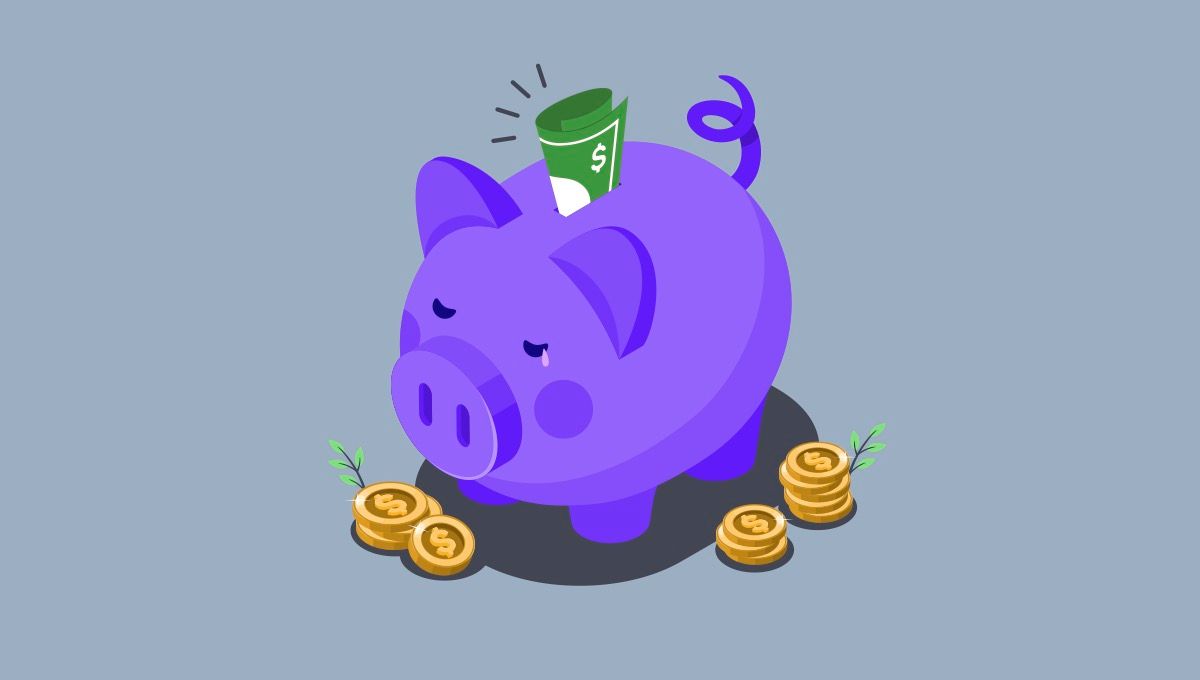 22 savings stats you wouldn't expect
Americans aren't saving enough — but not necessarily by choice. Inflation, COVID, and higher housing costs are just a couple of the larger societal factors contributing to these surprising stats.
You might think the current state of the American saver is rosy. There are more options than ever to save money and earn interest, and anyone who can download an app can open a savings account.
But due to societal factors out of the control of any one person, along with the relatively new concept of savings apps, Americans aren't saving enough. Notably, less than half have a high-yield savings account, which can pay up to 12 times the average savings account per Investopedia.
Tellus exists to change that by making it more accessible for anyone of any net worth to save money and earn interest.
Here are 22 statistics about savings we're committed to improving.
The state of American savings
Source: The Ascent
On average, more than 1 in 3 Americans have $1,000 or less in savings.
That doesn't leave much to cover an unexpected expense — average monthly expenses exceed $5,000.
And more than 7 in 10 people keep some of their savings at a traditional bank…where they typically earn even less than the average 0.39%.
In case of emergency
Source: Bankrate
As of January 2023, 36% of Americans have more credit card debt than emergency savings.
That's up from 22% a year earlier.
Education plays a big role: 42% of people without a college degree have more credit card debt than emergency savings.
Age matters, too. That number goes up to 45% for people ages 27–42.
When it comes to emergency savings, 39% of people have less now than they did in January 2022.
That causes substantial stress. 68% of people said they'd be worried about covering a month of living expenses if they lost their main source of income.
When considering millennials only, that number jumps to 79%.
It's high even for people ages 43–58 (Gen X) at 69%.
Why? 68% of people are saving less because of inflation or rising prices.
Telling trends
Source: Forbes
52% of Americans don't have a high-yield savings account.
Only 34% said they were able to save money last year.
If given $5,000, just 19% would deposit it in a high-yield savings account.
The most common way to save is with recurring transfers. 44% of people automatically add to their savings that way.
Perhaps most surprising is that 24% said they don't have a high-yield savings account because opening one is too hard and takes too much time.
Heavy fees
Source: Bankrate
27% of Americans are paying an average of $288/year in bank fees.
Without bank fees, 29% would contribute to their emergency savings.
The average monthly bank fee is more than $16.
And it takes an average monthly balance of nearly $10,000 to avoid those fees.
More than 1 in 10 people settle for paying bank fees because switching is too much of a hassle.
For the most part, people don't have enough money saved because they're not able to — not because they don't want to.
Whether you're looking to start an emergency fund or grow a $50,000 balance, Tellus can help. Keep in mind, Tellus is not a bank and is not FDIC insured.
With a Boost Account, you earn at least 5.00% APY. You can deposit as much as you want and withdraw whenever you want. You never have to pay fees or meet minimum balance requirements. Plus, your money is backed by real estate lending in some of the country's most stable real estate markets, and your data is protected by bank-level security.
If you're one of the many who think it's too hard or time-consuming to get started with high-yield savings, find Tellus in the App Store. You can go from download to first deposit in minutes.

Start earning at least 5.00% APY with Tellus today.
---