Payment
Save time with secure payment options. From rent to reimbursements, we make it easy.
Rent
In the past, paying and collecting rent was stressful. Tenants with roommates would have to coordinate with each other to submit a single check, hunt for stamps, and then hope their payment didn't get lost in the mail. Landlords would hope to receive checks on time, but still end up taking endless trips to the bank.
With Tellus, paying and collecting rent is effortless. Tenants can choose to pay with one tap, or they can set up AutoPay and never be late. Tenants with roommates can split the rent through Tellus, with each roommate paying their share of the rent directly to their landlord. All rent money is deposited directly into the landlord's bank account. No more trips to the bank.
If tenants choose to set up and use their bank accounts, there is no charge for paying rent. If they choose to use a credit card, there is a small surcharge from the credit card company. Collecting rent and other payments is always free.
For tenants who prefer writing checks, landlords and property managers can still use Tellus to mark rent as collected by taking a picture of the check and storing the file with other documents.
If a tenant has not set up AutoPay, Tellus sends reminders about when rent is due to encourage them to pay on time. Once rent is paid, we send notifications to the landlord so that they know when it was paid and when they will see it in their bank account.
We accept payments with bank accounts, credit or debit cards, Alipay, and WeChat Pay.
Late Fees
No one wants to be late. Tellus makes every effort to encourage tenants to pay on time. We send reminders, we calculate the amount of time a bank transfer will take, and we encourage tenants to set up AutoPay—all so that landlords can receive rent on time. Despite everyone's best efforts, late payments can still happen. We want to be as upfront as possible about applicable late fees and when they take effect.
Depending on your state, there are different requirements for late fees. If a late fee will be applied through Tellus, it will already be in the lease agreement signed by both the tenant and the landlord. All parties should understand when a late fee is applied and if there is a grace period.
If the landlord chooses, late fees will be applied automatically each time rent is not received by the due date. Automating late fees makes it more of a policy and less of a personal decision. However, Tellus does allow landlords the option to waive late fees in the case of exceptional circumstances.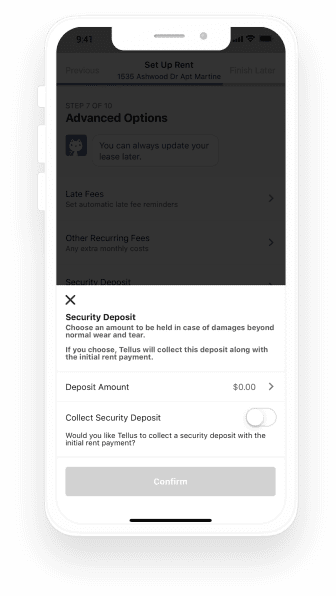 Security Deposit
Most landlords will choose to collect a security deposit along with first month's rent to protect themselves against any damages a tenant may cause. The security deposit is not designed to pay for normal wear and tear on the unit, but is meant to go toward specific damages. The amount collected and any holding requirements vary depending upon the state. Tellus ensures all parties understand the amount to be collected by writing it into the lease agreement.
Typically, landlords and tenants will conduct a walk-through prior to move-in to note any already existing damages. Tellus recommends taking pictures of the unit and storing them as an album in the app to reference later for the move-out inspection. All photos and notes are time-stamped and backed up to the Cloud, so everyone is held accountable.
When setting up the lease, Tellus will give landlords the option of collecting a deposit along with first month's rent. We will notify tenants of the exact amount to be withdrawn from their bank accounts seven days in advance.
Landlords should be sure to check their state's holding requirements along with deadlines for returning the security deposit after move-out.
Pay or Request Money and Reimbursements
In the past, tenants who made approved changes to a unit had to wait for reimbursement until their next rent check. Now, it's simple to pay them immediately through Tellus. This feature also allows for better record keeping for landlords and managers, since each instance of approving a reimbursement request records it automatically as an expense in the Ledger.
Payments can be initiated, requested, approved, or denied. This feature can be used for:
A tenant who needs to reimburse their roommate for utilities
A landlord or manager who needs to reimburse their tenants for improvements to the property
A landlord who needs to pay their property manager
Any other situation where you would like to pay someone
Reimbursement requests between landlords and tenants are submitted through Tellus Home Chat. Tenants will use this feature if they use their own money to make significant, lasting improvements to the property, such as replacing broken fixtures, updating an old paint job, hanging a shelf, or updating appliances. Landlords and managers have the option to either approve or deny these requests. We encourage tenants to discuss changes with their landlords before investing significant time and resources.
Payment Methods
Tellus accepts payments with bank accounts, credit or debit cards, Alipay, and WeChat Pay.
Paying and collecting rent with a bank account is always free. It takes 3-5 business days for the funds to transfer. Tellus will send tenants reminders to pay rent several days before it is due so that landlords will receive it on time.
Paying with credit or debit cards is a service that incurs a 3% surcharge from the payment network. Payment with cards is instantaneous.
Payment with WeChat Pay and Alipay is free, provided there are sufficient funds in the user's accounts.
Risks of Existing Payment Methods
Traditionally, tenants would pay rent with checks, cash, or a direct bank deposit. Unfortunately, each of these methods comes with major risks for landlords.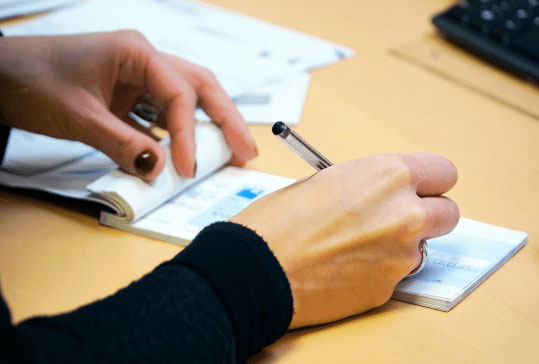 Risks with Checks
Must disclose a mailing address
Checks can bounce or get lost in the mail
Endless trips to the bank
Difficult for record keeping
In cities like San Francisco, accepting a rent check from someone not on your lease means they are automatically a subtenant. You won't have screened them. You may have no idea who they are. But now they are legally on your lease (and most likely living in your rental) because of one check.
Accepting rent through Tellus eliminates this possibility. Only tenants on your lease can send you rent payments. Since funds will be deposited into your bank account automatically, you can say goodbye to all those trips to the bank.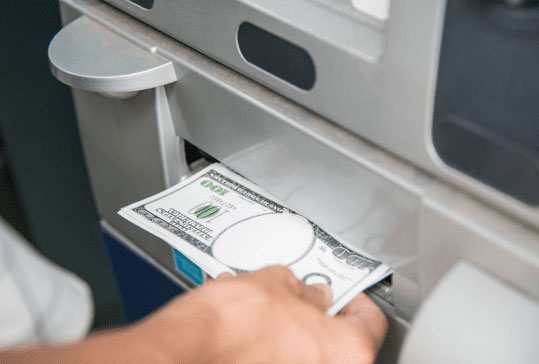 Risks with Cash
Requires in-person pick-up or drop-off
Greater risk of fraud
Difficult for record keeping
Landlords who accept rent in cash open themselves up to risky situations. In extreme cases, tenants may be avoiding the law. In more common cases, holding a significant amount of cash on the premises carries the risk of theft or confrontation during payment. Landlords must remember to provide receipts for cash payments; forgetting to do this could lead to disputes about how much rent was actually paid.
Tellus ensures privacy and security with rent collection. We track it for you so that everyone keeps a record.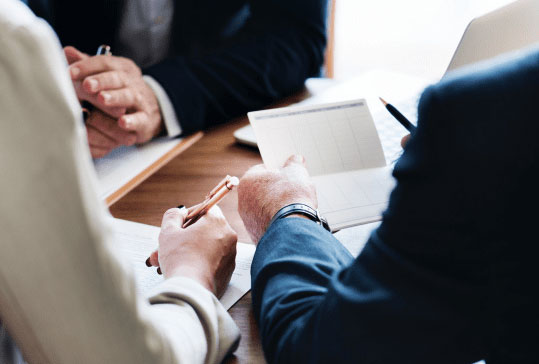 Risks with Direct Bank Deposit
Must disclose a bank account
Inability to block partial payments
Difficult for record keeping
Experienced landlords will tell you that blocking partial payments is an important feature. If you are trying to evict a tenant in certain states, accepting a partial rent payment can delay or even halt the eviction proceedings, and you must begin again the following month. If partial payments are accepted (even if they are a mere fraction of the monthly rent), the landlord stands to lose thousands of dollars in rent money.
Tellus gives you the ability to block partial payments. This way, if you need to evict a tenant for failure to pay rent, you have that option.