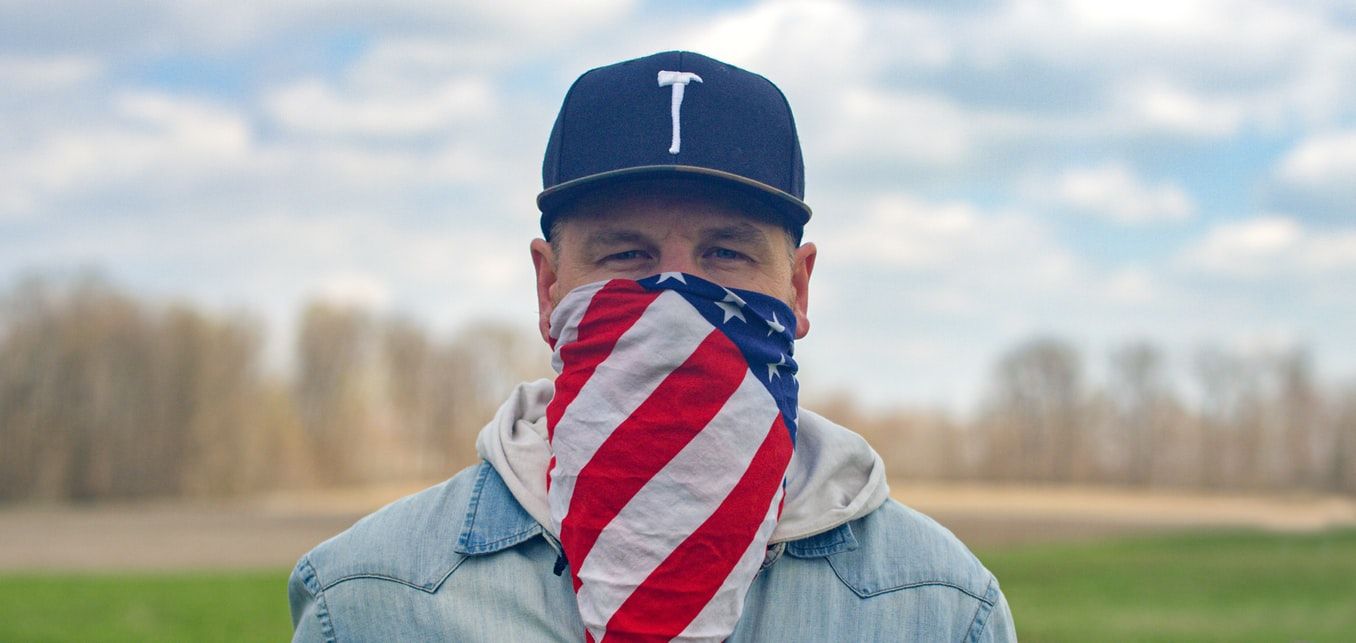 A Second Stimulus Check Has Arrived: What You Need To Know
As we start to put 2020 to rest, some of us can leave the tumultuous year behind with a slightly thicker lining in our pockets thanks to the new bill that was approved by Congress on Dec 21st.
As we start to put 2020 to rest, some of us can leave the tumultuous year behind with a slightly thicker lining in our pockets thanks to the new bill that was approved earlier this week.
Here's the stimulus update:
Late Monday, Congress passed a $900 billion pandemic relief bill that includes enhanced unemployment benefits and direct cash payments. This is welcome news as several aid programs in the CARES Act are set to expire in December. These programs include key pandemic unemployment assistance measures and eviction protections that many Americans have relied on to stay afloat during this pandemic.
After the $2 trillion CARES Act that Congress approved in March, this new bill follows behind as the second largest federal stimulus package in American history. Having said that, there are still tens of millions that will not receive a second stimulus check.
Calculating the stimulus payment:
Just like the first round of stimulus checks, the amount you receive hinges on your adjusted gross income (AGI) based on your 2019 taxes.
Earlier this year, people received $1200 in an economic impact payment. This second time around, people can expect to receive the skinnier version of that payment. Individuals with an AGI of $75,000 or less will receive $600 stimulus checks, half the amount of what was received earlier this year. Even though the checks are smaller than expected, they are non-taxable and will not affect your tax refund for 2020. Woohoo!
Lawmakers have tightened the range of eligibility this time around. Upper limits were reduced, which eliminated many Americans from eligibility, including some who received a check the first time. The first time around single filers with an AGI of up to $99,000 were able to receive stimulus payments. This time around, single filers who have an AGI greater than $87,000, are ineligible to receive funds.
Payment will decrease $5 for every additional $100 that you earn on your AGI. For example, if you are a single filer, and your AGI is $75,100, you should expect to see $595 disbursement. Refer to Table 1 below to see if this applies to you. If you're unsure of what you'll receive, there are great tools online like calculators that can help you figure that out.
Table 1. Second Stimulus Check Breakdown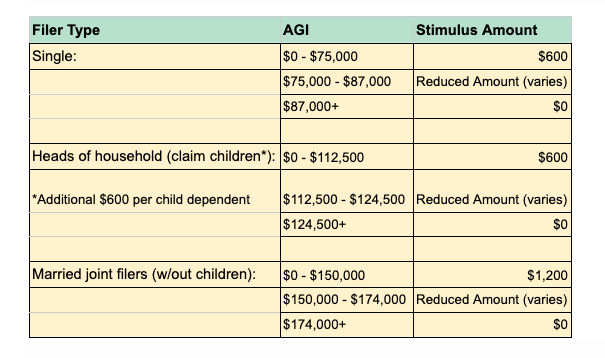 If you have children, eligible families can receive an additional $600 payment per child dependent under the age of 17. That's $100 more than lawmakers gave families in the first round of relief last spring.
Who will receive the payments?
As was true the first time, you need a Social Security number to qualify for a relief check. People who filed their 2019 tax returns, Social Security recipients, and those who uploaded their bank account information to the IRS's online portal the first time around will receive their money automatically via direct deposit.
When can I expect to receive the 2nd stimulus check?
Thankfully, the first group of payments will go out as early as next week, according to Treasury Secretary Steven Mnuchin. Since the IRS already has most taxpayers' information from the first round of disbursement, it should be faster this time around.
Unfortunately, if they don't already have your information, there is no current way for you to set up direct deposits specifically to receive stimulus check #2. Since turnaround time is expected to be quicker, the goal is to complete the disbursements by Jan 15th, even for debit cards and paper check disbursement.
What if I haven't received my first payment?
For those of you who were sleeping on the first round of stimulus payments, though the deadline to apply has passed, there is still hope. If you are eligible and haven't been paid, or you weren't paid the right amount, you can claim a "recovery rebate credit" when you file taxes next year for 2020.
So what should I do with this money?
Many Americans need this money to buy essential items, and pay for expenses that can't be avoided. There is nothing wrong with spending the money if you need it to ensure your health and wellness through this tough time. Do what you have to.
However, if you're lucky enough to be thinking about spending this nugget of cash on luxury items that aren't essential, let's rethink how you can use this money in a more constructive way. We're about to enter into a new year after all. Creating healthy financial habits at the start of the new year could be a great look for the 2021 version of you.
While a $600 payment may not seem like a hefty amount, it can go a long way if you save or invest it wisely. In fact, there are a number of ways you can earn money passively by simply storing it in the right place.
If you're a parent and can spare it, consider taking the extra money that was given to children this time around and use it to build generational wealth for your family. Now is a great time to be educating your children on how to become smart savers in the long-run.
Whatever you do with the money you receive, make sure that you use it wisely. Consider your current situation as well as your long-term financial goals. The version of you that exists in the future will appreciate the effort.

---