Brand new Reserve Account. 4.50% APY.
Get excited, it's here - 4.50% APY, everyday, with the brand new Reserve Account. Jumpstart your savings journey with a supercharged rate on up to $2500.

This is your secret savings weapon. Grow your stash with the highest-paying cash account out — backed by durable, US-based real estate. Zero crypto or stock exposure. Zero lockup period. And zero fees.

How's it different from the Boost Account? Here are the highlights:

Fixed 4.50% APY
How about 75x the average interest rate?* The Reserve Account steps it up so you get the most out of every dollar you save.
The ace up your sleeve
The Reserve Account is limited to $2500, allowing us to offer the highest possible interest rate to help your savings in reserve ramp up quickly.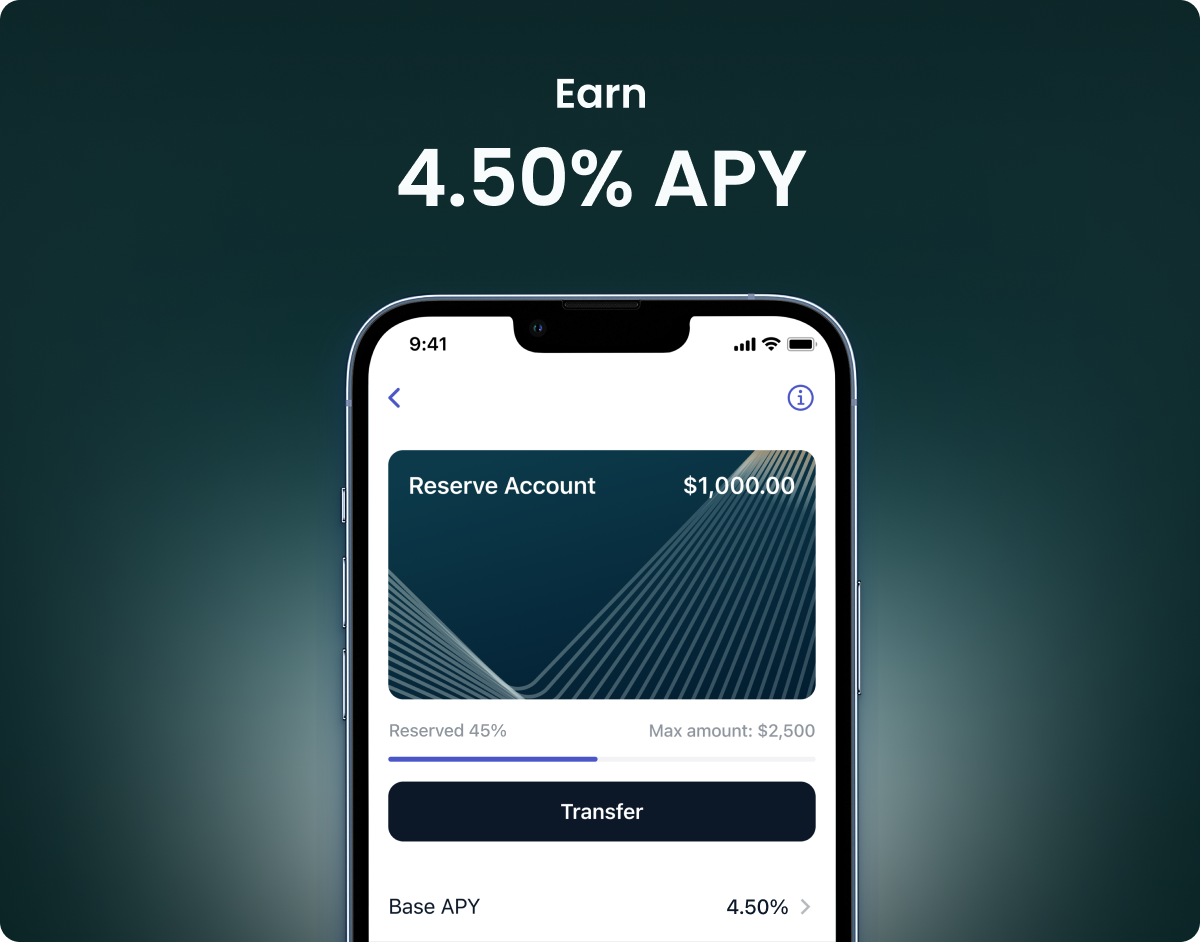 On top of that, you're still getting all of the functionality you love about Tellus.

Interest paid daily
Banks pay monthly. Reserve Account pays daily. It's your money. Earn more and get it faster.
No lockup
Your cash is free to move when you need it. No lockup. No nonsense. 100% liquid, everyday.
No fees†
Not much more to say about it. Tons of value that costs you nothing. This might be the best cash account, ever.
No crypto or stock exposure
Reserve Account deposits are backed by high quality, US-based real estate assets. These assets generate a predictable stream of income. A portion of that income is allocated to paying Reserve Account members. What's more, Tellus maintains an additional 20% cash buffer as the cherry on top.**
Make recurring transfers
Put your savings on auto-pilot by setting recurring transfers directly from your bank into your Reserve Account.
Bank-grade security‡
Rest easy with AES 256 encryption protecting your data and a US-based treasury and security practice.
Download the app to get your Reserve Account.

FAQs
What is the Reserve Account?
The Reserve Account is a super high yield cash account that makes your savings account pale in comparison. Reserve earns an interest rate of 4.50% on balances up to $2500, and pays out that interest daily. Zero fees. Zero lockup period.

Why should I use the Reserve Account?
The Reserve Account is designed with a hands-off approach in mind. Deposit money and earn interest. That's all. Same money. 75x more interest than a savings account.*

How many bank accounts can I link to my Boost or Reserve Accounts?
Only one bank account may be linked to your Tellus Account. This includes both the Boost and Reserve Accounts.

How does the Reserve Account cap work?
Your Reserve Account can have a balance up to $2,500 (the "cap"). Once this limit is reached, any interest earned is automatically deposited into your Tellus Boost Account, our flagship high yield cash account. Your Boost Account has no cap and can earn as much as 6.00% APY***.

How do interest payments work?
Interest is automatically deposited into your Reserve Account every day at 12 AM PST. If an interest payment would result in a balance that exceeds the account limit, the excess interest is swept into your Boost Account. All such funds movements are visible anytime from your transactions History.

Where do I find the Reserve Account?
You'll be able to access the Reserve Account from the Tellus app once you have the latest version installed from the app store. You'll see more information on the home screen.

When can I withdraw my money?
You are free to make withdrawals as soon as your deposits have successfully been processed. This may take as many as 7 business days, although in many cases, your deposit could process as quickly as a day or two.

Disclosures
* Savings account interest comparison based on national average APY for US savings accounts effective as of October 21, 2021.
† Tellus is not a bank. Tellus is not FDIC insured. All cash on Tellus' balance sheet is held at Member FDIC banks. There are no fees for opening or using Tellus; however, your bank may charge fees based on their terms of service. Payment solutions are provided by Stripe and Plaid.
** "Cash buffer" refers to the portion of user deposits that are held by Tellus in reserve and not used to invest in real estate loans.
‡ "Bank-level" means that user data is encrypted and protected using the same industry-leading, or better, encryption standard that banks use.
*** APY is calculated and interest is paid daily. This interest calculation is inclusive of the Boost Account Base APY ("Base Interest Rate") combined with applied promotions and rewards incentives ("Active Boosts"). Boost Account Base Interest Rate, as of Feb 28, 2022, is 3.00%. See website for additional details, terms and conditions.
---