If you're anything like us, you've got plans for your money this year. Whether you're dreaming about a vacation, a new phone, or just wanting to stash money aside for a rainy day, success requires organization. Introducing Stacks.
We've made it easy to visualize your goals, carve out budgets, or earmark expenses–– all without sacrificing a penny of your APY.
Stacks are simple, customizable sub accounts–– like buckets. What's more, your Boosts apply automatically to all of your Stacks, so you never have to choose between good money hygiene and a great return.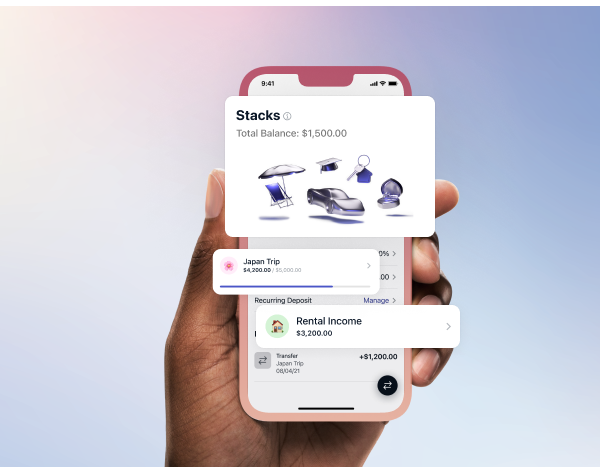 Create and customize your Stacks
If you dream it, you can achieve it. Start by giving your Stack a descriptive name and emoji. Start a Stack for your Dream Home 🏠. Or maybe, stack your taxes to stay out of trouble this year. The choice is all yours.
Save for whatever you need
Contextualize your savings and track your progress towards short (or long-term) financial goals. See how close you are with a simple visual breakdown.
Set a savings target
Pick a dollar amount you're wanting to stack away, and be notified when your Goal is achieved. Rollover your savings or let them stack.
Make recurring transfers
Put your savings on auto-pilot by setting recurring transfers directly from your bank account into a Stack.
Stay on top of your financial health
Keep a clear history of transactions for each Stack to stay on top of your money.
Keep earning cash rewards paid daily
Your Boosts apply to all of your Stacks automatically so staying organized doesn't cost you APY. Every day, you're stacking that cash higher and higher.
Get a jump on your resolutions this year and head into the app to start Stacking that cash. Go on, there's something you're putting money aside for. Take a step toward your goals and set up your first Stack today.
Download the app and start Stacking!
FAQs
What's a Stack?
Stacks are custom sub-accounts to save or allocate money for savings goals; whether it's a pet insurance fund or you're saving up for a vacation getaway.
Will my main Boost Account function differently?
Nope - not in the slightest! Transfer money into (or out of) your Stacks to your main Boost Account as often as you see fit.
How do I use Boosts on my Stacks?
Your Boosts will be automatically applied to your Stacks. Just sit back, relax, earn that APY.
How many Stacks can I have?
The sky's the limit! Have as many as you'd like in addition to your main account.
What happens if I delete one of my Stacks?
Your funds will be immediately moved back into your main Boost Account.
Are there limits to how often I can move money back and forth?
Not at all.
How do I see the total balance of all my Stacks?
From the home screen in the app, use the bottom navigation to access Stacks. If you don't see the icon for Stacks, make sure to install the latest version.
Is there a minimum balance for a Stack?
Each Stack you create will need to maintain a minimum balance of at least $125.
Will opening and closing a Stack impact my credit?
Just like opening a Boost Account, your credit is unaffected by Stacks.
Have a question we haven't answered?
Chat with our Customer Success team in the app.
---