Managers
Let your clients see your hard work. Tellus is all about organization, transparency, and keeping track of the details.
Finances
Effortless Rent Collection
Managers can always collect rent for free with no hidden fees. With an intuitive dashboard and smart notifications, Tellus will help you keep track of who hasn't paid. If your tenant misses rent, Tellus can automatically enforce late fees.
Tellus encourages tenants to set up AutoPay—monthly rent payments that guarantee the owner is paid on time. It's more secure than bank transfers and less hassle than checks.
Keep the owner's mailing address and bank account details private, stop worrying about bounced checks, and cut down on all those visits to the bank. The owner won't even need to check their bank account each day rent is due—we'll send a notification when the payment has gone through.
One-Tap Expense Tracking
Step into optimum organization. Snap pictures of receipts, log income and expenses in the Ledger, and create income-expense reports for any rental and time period to always know your bottom line. Show the owner at a glance how much their rentals are actually producing and which ones are the most profitable.
Generate Financial Reports
Relevant information in an instant: create professional income statements, rent roll reports, and more. What is often a paid-for service with other providers is something Tellus offers for free. We create automatic income and expense reports for any rental and time period. Reports refresh automatically and are easy to export and share with the homeowner or your fellow property manager.
Easy Organization for Tax Season
Easy Organization for Tax Season
Don't spend valuable time searching for a receipt the homeowner needs for their tax deduction. Tellus keeps everything in one place. With professional reports, itemized expenses, and photo archives, Tellus keeps everything organized so that tax season is a breeze. The homeowners (and their CPA) will thank you!
Get Paid through the App
These rentals don't run themselves! Tellus makes it easy for the homeowner to set up recurring payments directly to your bank account.
Documentation
Photo Uploads of Receipts or Invoices
Have a paper receipt you want to document? Just snap a picture to log it in less than 30 seconds and keep it with your other documents. Everything in Tellus is backed up to the Cloud, so you never have to worry about finding old receipts for tax season.
Upload and Digitally Sign a Lease
Upload a lease and invite tenants to review and sign it through the app. For California landlords (with more states coming soon), we offer the use of our Tellus lease, a robust document hand-crafted by our lawyers to be one of the most protective leases for landlords in California.
Upload Pictures for Move-In or Move-Out Inspection
Upload Pictures for Move-In or Move-Out Inspection
Keep those rentals in great shape! We make it easy to take and upload pictures so that everyone has an accurate record of the conditions of your rental upon move-in and move-out.
Communication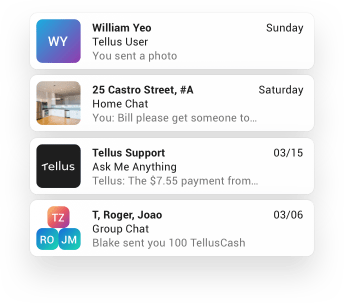 Efficient Communication
Email is inefficient and phone tag is a drag. Communicate faster and more efficiently through our intuitive chat platform where everything is kept in one place. Imagine how much easier it is to have all your tenants available at your fingertips and everyone who is helping you in the same group chat! Property managers using Tellus will tell you our app cuts down 90% of rental related emails, phone calls, and text messages. Tellus makes communication effortless so you can enjoy peace of mind.
Flexible Management Style
Some homeowners are hands-off, letting you run the show and be the first point of contact. Others want everything to come through them first before letting you take charge. Tellus lets you manage your clients' properties whichever way they prefer. Mute notifications for the homeowner so they won't get bogged down by chatter or let them participate as fully as they would like.
Respond to Tenant Maintenance Tickets
Let tenants submit tickets for necessary repairs. Connect directly to the best service provider through Tellus. Create work orders for jobs that need to be done and mark them as completed.
Coordinate a Repair
Have your own handyman? Great! Now you can loop them into the conversation easier than ever. If not, let us help you find the right person. Tellus has a reliable network of local professionals who have a proven record of excellence. If they're not available, we'll research and compare quotes from local businesses and help you make the most informed choice.
Never Forget a Name
If you're managing multiple units, there's a lot of information to keep straight. Tellus helps you manage rental contacts with ease. We remind you who lives where and the topic of your last conversation.
Send Alerts and Other Relevant Messages
Send Alerts and Other Relevant Messages
Notify your tenants when you need to enter the premises or for any relevant alert. You'll have a log of everything you've sent, including read receipts so you know they've seen your message. With Tellus, you can expect responses in minutes, infinitely faster than other forms of notification. No more "not getting the memo."