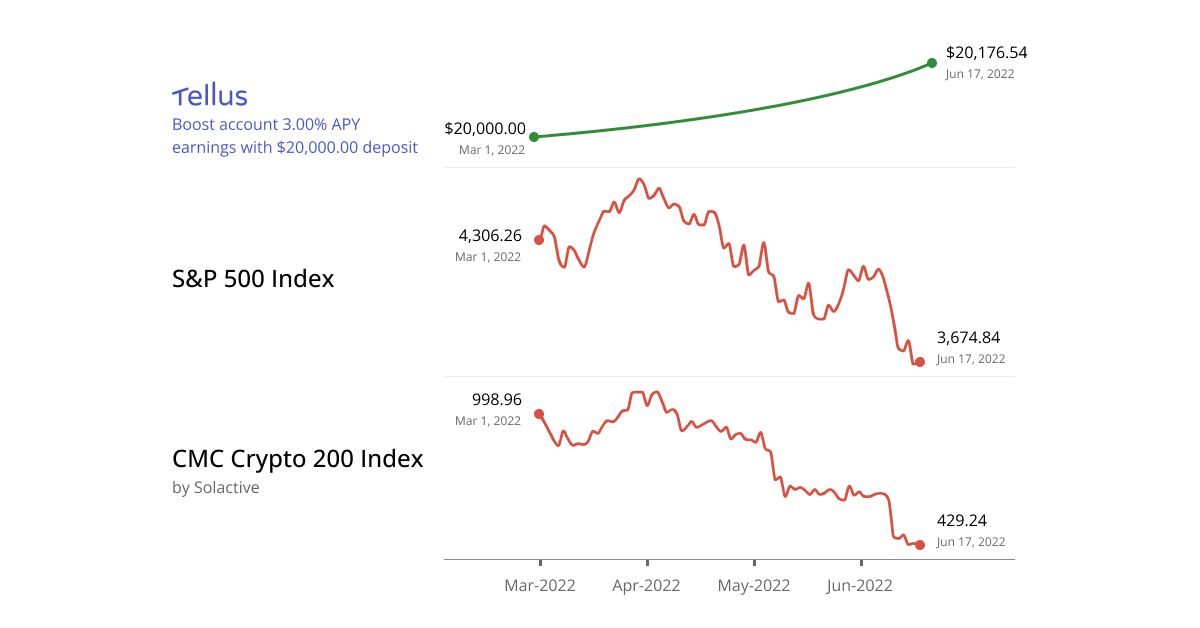 Tellus vs. Crypto and Stock Markets: 10 Reasons Why You Should Put Your Money in Tellus
If there's a headline for the crypto and stock markets for the first half of 2022 it's that the markets have become a scary place to keep one's cash. Fortunately, there is a solution for those looking for high yield passive income while staying out of the markets and away from the recent market volatility.
---
May was a rough ride for crypto investors. More than $200 billion was wiped from the cryptocurrency markets on May 12, 2022 after the "stablecoin" TerraUSD suddenly plummeted in value, sending shockwaves through the crypto universe. Coinbase, the cryptocurrency trading platform lost half its value in the same week, including its biggest ever one-day drop on May 11, prompting a warning to its customers that a "bankruptcy could wipe out user funds". A day earlier, Bitcoin ($BTC) fell below $32,000, an important support level for the crypto, representing a 54% decline from its all-time high six months previous. The second-largest crypto Ethereum ($ETH) hit its lowest price in almost a year at $2,400 and has been trading well under $2,000 in recent days.
Even the most zealous and sophisticated crypto participants are feeling the pain. Crypto miners are operating at a loss. With no safety in sight some are faced with shuttering their mining operations as experts speculate which cryptos will survive.
When will the stock market stop falling?
Investors on the other side of the tape aren't faring much better. On May 9, the S&P 500 ended below 4,000 for the first time since late March 2021 before hitting a lower low of 3,810 two weeks later. The Nasdaq is down more than 25% since the start of the year.
Hindsight is twenty-twenty: investors fishing for fat dividend yields in the stock market have gotten more than they bargained for in 2022.  
For those looking for a place to hide out and earn returns uncorrelated to the stock or crypto markets–– or simply seeking income outside of the markets, here are 10 Reasons to Try Tellus:
1. You want a 3-6% income without entering the market.
Access to preferred income opportunities is often off limits to everyday consumers and retail investors. The price of entry to private wealth management offerings and similar bespoke advisory services range from low six-digit minimums to $10 million or more. Income strategies that rely upon more sophisticated assets like corporate debt, preferred stock or derivative strategies can be complex for even a skilled investor. This is where Tellus shines.
Tellus is a financial technology company on a mission to make passive income accessible to everyone.
With Tellus, anyone can earn 3-6% by unlocking the value of real estate. We use smart technology to create a simple and viable path for anyone to access stable income, without exposure to the stock or crypto markets.
✅  No fees
✅  No lockup period
✅  No crypto or stock exposure
✅  Interest paid daily
✅  Amazing California-based customer support
Just make a deposit into a Tellus account and in minutes you can enjoy passive income that is paid out daily and always liquid.
2. You value safety and quality when it comes to where you put your money
Tellus is the most trusted source for high yield passive income. We don't rely on the market to deliver yield. We earn our money by providing mortgages to residential real estate borrowers. These mortgages are typically 6-18 month loans and are always fully collateralized.
All member data and deposits are protected by bank-level security and Tellus' Triple-Layer Protection framework:
Collateral. Every dollar Tellus lends is backed by high quality, US-based residential real estate collateral.
Capital. As a second risk mitigation layer, we hold cash proportional to every dollar deposited to provide an additional liquidity buffer. All cash on Tellus' balance sheet is held at Member FDIC banks.
Systems. We secure your personal and financial data with bank-level AES 256 encryption with additional support provided by industry-leading partners and a US-based treasury and risk management practice.
3. You want constancy and predictability from your returns
Stock and crypto holdings move up and down. Even dividend and crypto staking strategies subject your capital to market forces. Tellus is different.
We hold high quality loans on our balance sheet. These loans generate a predictable stream of income. We delight our members by giving them a variety of rewards, including top of market interest payments, which arrive daily into Tellus' member accounts.
It's really that simple.

Tellus offers two high yield income products:
Reserve Account: A perfect addition to your financial arsenal. This account steps up your interest rate so you get the most out of every dollar you save. Jumpstart your savings and experience the highest-paying cash account with a supercharged 4.50% interest rate, up to $2500—that's 64x more than the national average savings rate.
Boost Account: Our most flexible product that delivers a powerful base APY of 3.00%, 42x the national average savings rate, with no account balance limit. Unlock and apply free daily 'APY power-ups' called Boosts to supercharge your payout rate to 6% APY.
4. You want to stay liquid so you can move your money when the next opportunity arises
With Tellus, you are free to move your cash when you need it. No lockup. No nonsense. 100% liquid, everyday.
This is especially beneficial when you need to:
Keep cash at the ready between investments: "staying in cash" used to be painful. Not anymore. When your cash account earns more than your prized dividend investments, you might start to think differently about picking and choosing your next investment. You can, in effect, "time the market" with confidence that your cash is working and ready to move when you need it.
Make a large purchase, but not ready to pull the trigger yet. Not all investments are publicly traded. What about a home purchase? What about an investment in yourself or your family–– like a big vacation, university tuition or a wedding? You don't want the cash you're saving for these big buys floating around in the stock or crypto market.
5. You want to get paid out daily on your cash (not quarterly or monthly like a stock dividend or bank account)
With Tellus, you don't have to wait until the end of the month or quarter to see a payout on your capital. Tellus rewards you daily! When your interest is earning its own interest daily, your money is quite literally making money while you sleep.
Pro Tip: Tellus interest is taxed as interest income, not as capital gains. Capital gains tax rates apply only to assets that appreciate in value when sold, like stock shares.
6. You see that real estate is where the smart money is fleeing to
Real estate plays an integral role in the U.S. economy. Not only does residential real estate provide housing for families, it's a great tool for building generational wealth. In fact, over the last two centuries, about 90% of the world's millionaires have been created by investing in real estate.
The US residential real estate market has created more than $6 trillion in wealth over the last two years. More recently though, investors are worried about keeping their cash in the markets with inflation on the rise.
In times of inflation, real estate can act as an inflation hedge. This is because property values over time tend to stay on a steady upward curve. Inflation also benefits real estate investors who are earning income from their rental properties, specifically property sectors with short-term lease structures like multi-family properties, because higher home prices often equal higher rent. This makes sense: if you're able to adjust your rent up while keeping your mortgage the same, the result is more money in your pocket.
All this is to say that while the stock and crypto markets might scare easily at the sight of inflation, real estate does not. Tellus members rest easy knowing that every dollar Tellus lends is backed by high quality, highly durable residential real estate collateral.
7. You value diversification (particularly during tough times)
There's an old saying that goes, "Don't put all your eggs in one basket." This concept is especially relevant for financial planning. You don't want to hold all your money in one type of investment — all stocks, all bonds, or all of another commodity or asset class — because if something happens and the value of that particular investment drops, the value of your entire portfolio will drop too.
Tellus is a great place to put some of your money when you want to earn income, faster, without the jitters of having money at risk in the public markets. Note: Tellus is not an investment.
8. You need to see a winning track record before trying something new
Our track record is quite literally perfect. Since launching Tellus Boost in 2020, Tellus has met every member payment obligation and delivered an unmatched 100% loan repayment success rate. By comparison, the industry average mortgage delinquency rate during the same period was 6.04%.
9. You don't fight a good thing when you find it–– and Tellus members love Tellus (big time)
Readers sometimes ask us, "What's the catch?". Scout's honor: there is none. See for yourself: Tellus has an excellent score on Trust Pilot and the App Store. Here are some recent user reviews.
10.  You know that keeping cash in a brokerage or savings account is like locking in a loss
We've been trained to accept that a banking or brokerage account is where our idle cash should go. After all, our parents kept their cash there; and their parents kept their cash there. We've been told that the protection offered by big banks justifies the low rates. Forget the nothing-burger rates you get in your Charles Schwab Brokerage Account at 0.01%. Consider that the average US savings account pays a measly 0.07% APY (annual percentage yield).
Tellus members that kept their cash on the sidelines last summer earned on average 3.71% APY on their sidelined cash—that's a 53x higher return than a traditional savings account.
Do you have a bunch of investments or purchases you want to make? Try Tellus Stacks to create personalized sub accounts and earmark cash for different end uses while it earns between 3-6% APY.
So what are you waiting for? Open a Tellus account and start earning money in minutes.
---