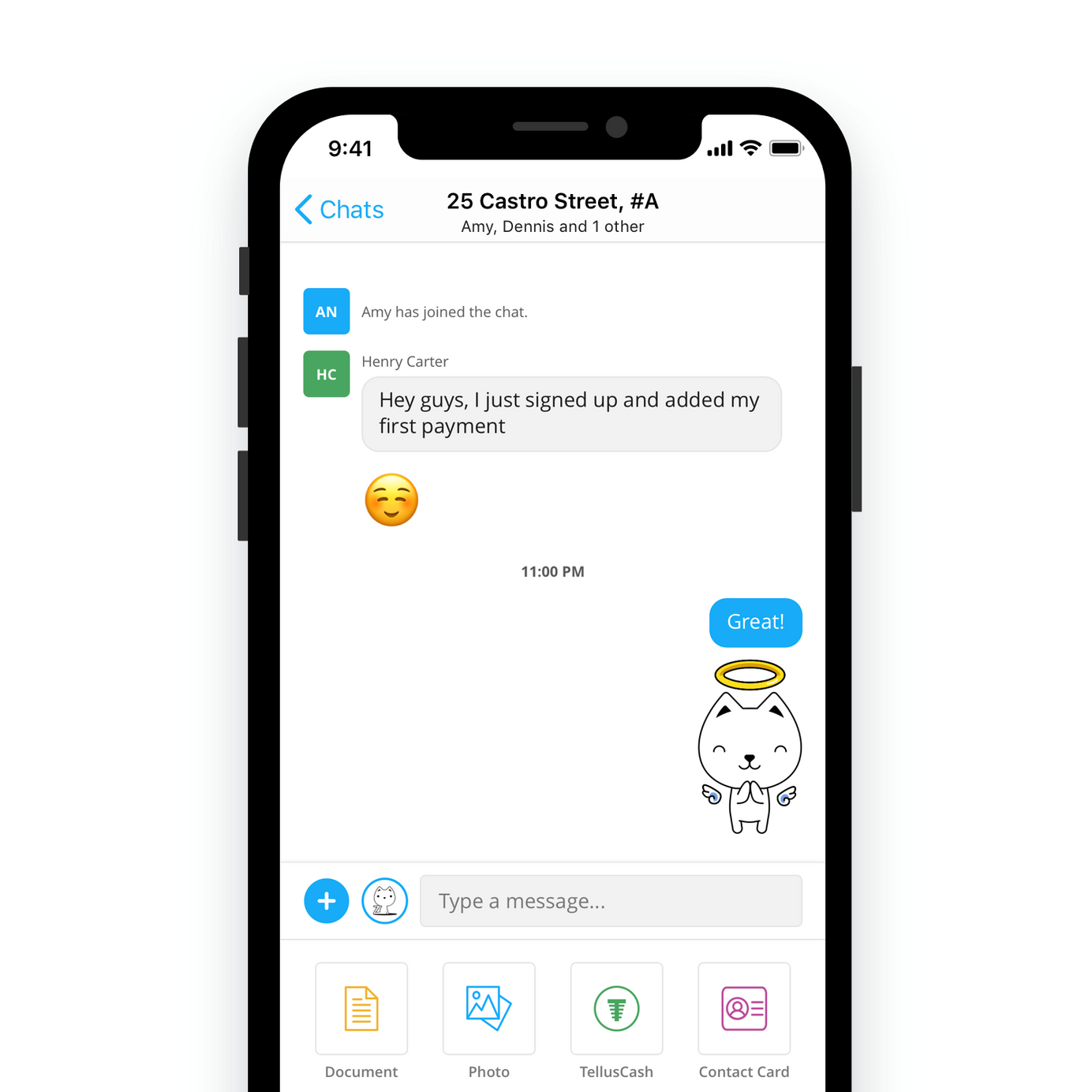 Tellus Features: Communication
Using Tellus Home Chat will improve communication with your tenant, landlord, or property manager.
Welcome to our Features mini-series! In this series of short blog posts, we'll be helping out our new users by highlighting specific features of the Tellus superapp. Today we dive into communication.
Rental communication has been long overdue for a facelift. Considering that the majority of landlord-tenant disputes arise from miscommunication, finding a platform that will work for everyone is essential for improving relationships and creating clear lines of contact between landlords and tenants.
Unfortunately, platforms that are used by most landlords fall short of meeting these needs. Email is overly formal, making tenants feel like they need to compose a proper letter for a simple question. Phone calls are inefficient with too many voicemails and too much phone tag. Even texting has the drawback of not being backed up or easily searchable. Good luck finding that message from three months ago!
We wanted to redefine the communication system in the rental industry, maximizing efficiency and creating something that could also be fun. It was important to have something consolidated, with written documentation and fast response times. The result was our chat platform.
With chat, some of the major communication issues are solved. Everything is consolidated in one place, so there's no more trying to remember whether the conversation you're looking for happened over email or text. There's no phone tag involved, letting you use your time for more urgent matters. Furthermore, you no longer have to waste time scrolling through old messages, since all chats are searchable and backed up to the Cloud.
Having this extra layer of documentation helps everyone to have a record of what was agreed upon, and it gives greater transparency to the landlord-tenant relationship on both sides. It also gives our users peace of mind in case their phone is ever lost or stolen. In this situation, keeping all rental related information in text messages means everything would be gone. By keeping that information in the Tellus superapp, everything is safe.
Chat can do much more than just act as a vehicle for communication. Tenants can submit maintenance tickets when something on the property needs repair. It's easy to send photos with notes about the issue to the landlord or property manager, who can then add a service provider directly to the conversation to coordinate with tenants.
Landlords can send alerts, updates, or notify tenants of any need to enter the property, with read receipts ensuring the tenants got the message.
Chat also facilitates reimbursements. If a tenant has bought materials and made a repair themselves, they can request reimbursement from their landlord or manager through chat and get paid through the app.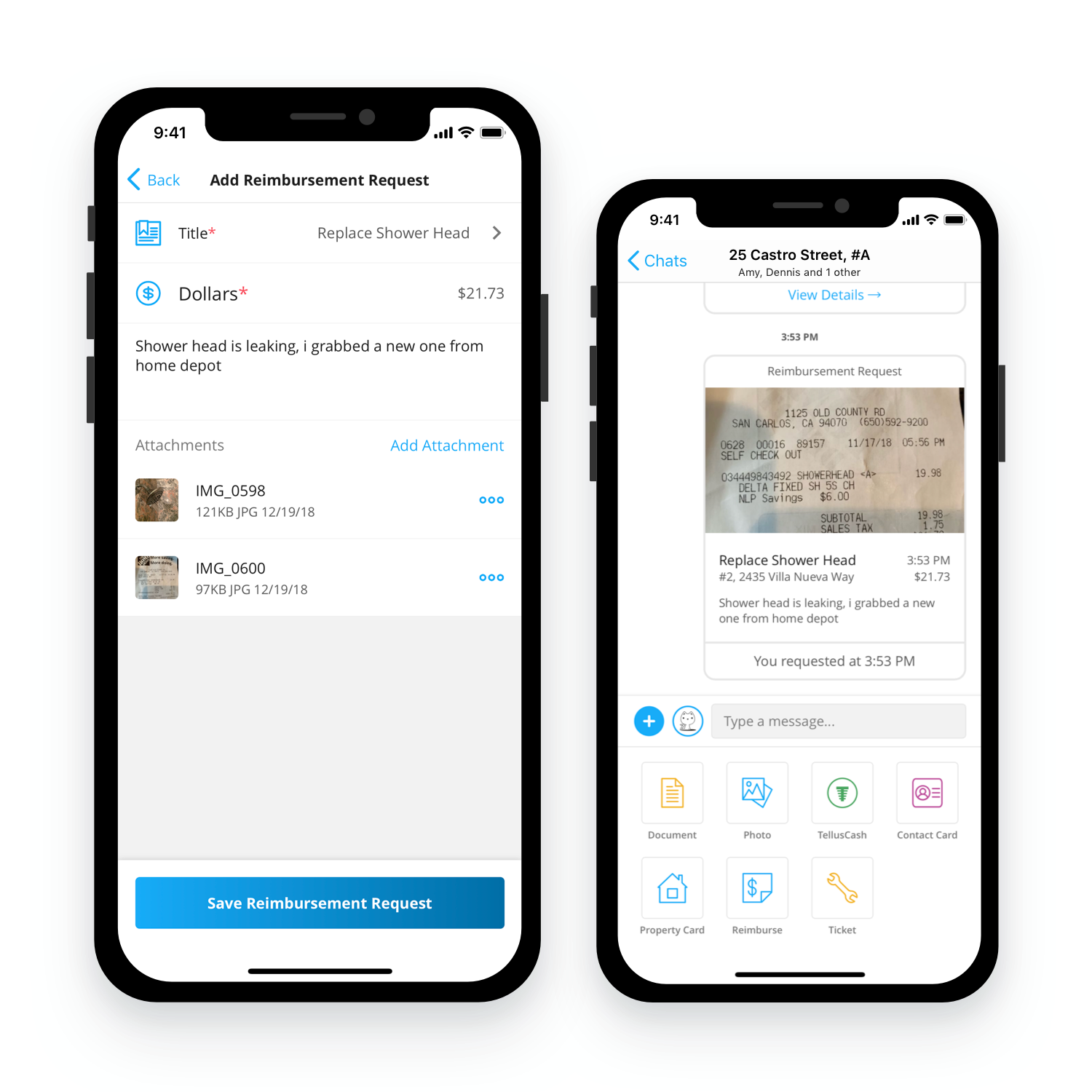 Finally, chat provides the best platform for coordination and teamwork. With the ability to create as many group chats as you want, the possibilities are endless. Roommates can form a chat together to talk about household related matters, while co-managers can have a separate chat to coordinate managerial tasks. Owners can monitor chats with their property manager to be kept in the loop, even if they are not actively participating. It's easy to add people to a chat and let them jump into the conversation, or remove them for after they've moved on.
Chat offers transparency, immediacy, and a light-weight tone that has been missing from rental management. Having access to the communication on your phone means you can expect responses in minutes instead of hours or days.
Interested in seeing how it works? Learn more about Tellus, or download the app for iOS or Android.
If you're a new user and have a feature you'd like us to explore in this blog, let us know by dropping us a line at blog@tellusapp.com
---