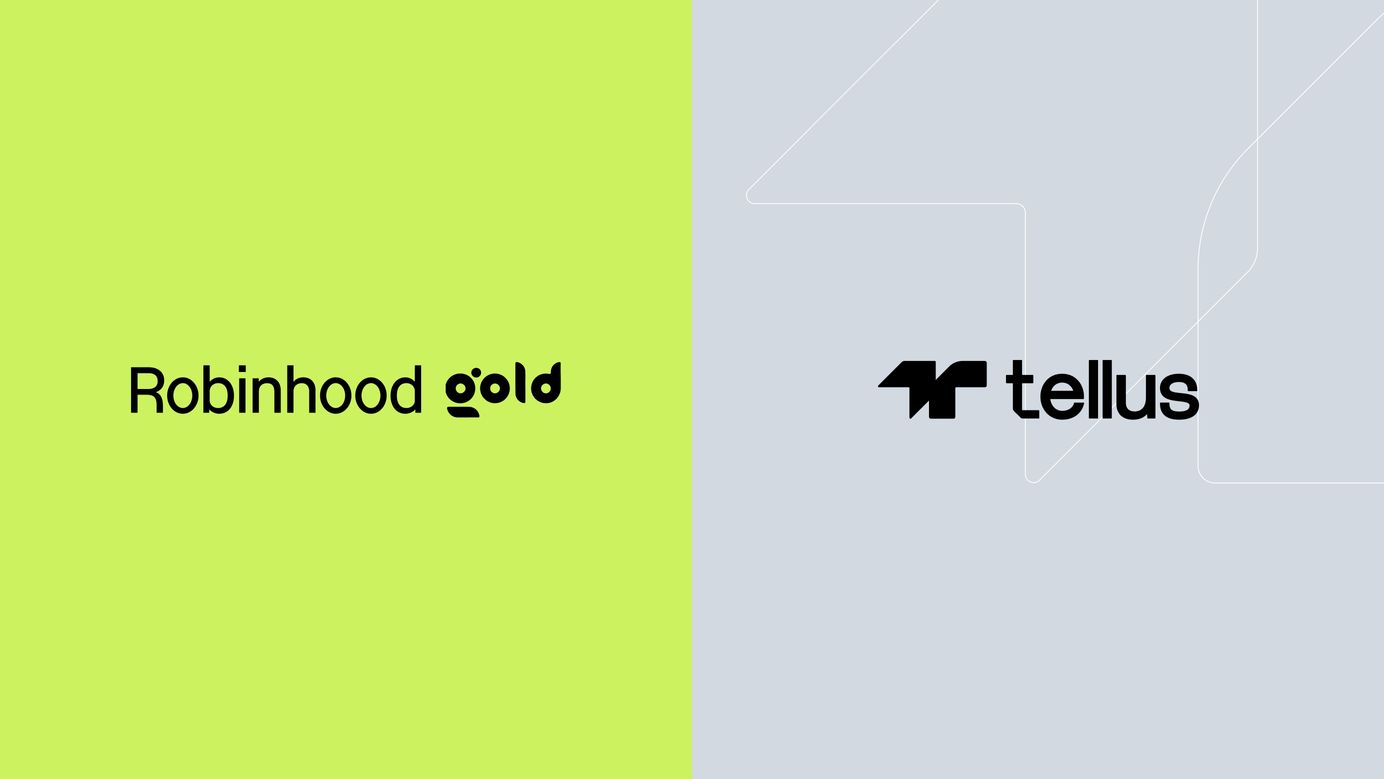 Robinhood Gold vs. Tellus
Folks have reached out to us recently requesting our thoughts on Robinhood's new subscription-based high yield brokerage account product, Gold.
What is Robinhood Gold?
Many of our members will already know Robinhood. The company earned its crust by popularizing free stock trading.
Recently, Robinhood launched a new pay-for ($5 monthly fee) brokerage product called Gold.
The headlining benefit offered by Gold is its 3.00% APY, intact with FDIC coverage.
If you're a Tellus member, this offer sounds familiar! Or at least at first blush.
So we decided to see how it stacks up.
Tellus vs. Robinhood Gold
If you're not a Tellus member, Tellus is a 100% free to use smart savings platform that turns your savings into passive income.
We offer simple cash accounts that harness the power of residential real estate lending to deliver 3.00-4.50% APY, while shielding your cash from the volatility of the stock and crypto markets.
What's more, Tellus pays you daily–– not monthly or quarterly, which means that the interest you receive today earns interest tomorrow.
It's 100% free. And you can withdraw your money anytime.
Pretty smart (we think).
How do Tellus' cash accounts compare to Robinhood Gold?
Given Tellus Boost's current base interest rate (not including additional Boost interest) is 3.00% APY, a few of our members asked if Robinhood Gold's 3.00% APY is actually the same when we look at the bottom line.
TL;DR – It's not. Not even close.
Here's our back-of-the-napkin analysis:
Key Points:
Robinhood Gold's $5 monthly subscription fee kills the effective interest rate for most customers.
Users with less than $2000 in their Robinhood Gold account will actually lose money with Gold–– this is because the $5 monthly subscription fee is greater than the amount of interest your money earns each month.
Tellus' average interest rate beats Robinhood Gold at every level of savings–– whether you have $500 or $5 million in your account.
The average Tellus customer earns roughly 50% more interest using Tellus than they would using Robinhood Gold (spoiler alert: Tellus' effective APY is 3.77%)
Want to see how your account balance stacks up?
We did the math below so you don't have to.
Note: the numbers below are based on Tellus' July 2022 data (we haven't closed the books on August yet. We're working on it!).
But here's the thing.
You could do much, much worse than Robinhood Gold
Below are the interest rates offered by the Top 10 biggest US banks today via their savings account products (ordered highest to lowest APY):
As of August 31, 2022*
If you are keeping your cash or savings in one of these accounts, you are who we created Tellus Boost for!
Please, please, do yourself and your money a favor and try Tellus (it takes 3 minutes to get started, and you can withdraw anytime).
What are Tellus' comparable cash accounts to Robinhood Gold?
Tellus has two (2) cash account options that are 100% free to use and allow customers to withdraw funds anytime:
Reserve Account
✅  4.50% APY on balances up to $2500
✅  Withdraw anytime
✅  No fees
✅  No crypto or stock exposure
✅  No credit check to open
Boost Account
✅  Base rate of 3.00% APY
✅  Free daily interest "power-ups" called Boosts that supercharge your APY up to 10.00% for short periods
✅  Withdraw anytime
✅  No fees
✅  No crypto or stock exposure
✅  No credit check to open
What about Tellus Vaults?
Vaults is powerful, but it isn't really designed for fast-moving cash like Boost Account or Reserve Account.
With Vaults you can lock-in interest rates as high as 4.40% APY for up to two (2) years in exchange for locking up your funds for the same duration.
There's no balance limit, so you can put large sums to work. You can create any number of Vaults with varying durations. And you can still withdraw your money anytime, but if you do before your Vault's maturity date you lose out on the interest earned in your Vault.
Is my money safe with Tellus?  
Tellus is an Andreessen Horowitz portfolio company with a track record you can feel great about.
Since launching Tellus' Boost in 2020, Tellus has met every member payment obligation, and maintained an unmatched 100% loan repayment success rate (yes, loans; this is how we power our business and your awesome interest rate).
Tellus is a fintech, not a bank, so your funds are not FDIC insured.
Here's a data point for you safety-seekers:
On average, Tellus backs every $1 of your money with at least $1.35 in real assets, including real estate collateral pledged by Tellus' borrowers and cash held in reserve on Tellus' balance sheet*.
What's more, all member data and deposits are backed by bank-level security.
Ready to save more, faster?

You don't need to be an investor to get more from your savings. Deposit today and see your first interest payment in your account tomorrow. Download for iPhone or Android.
Disclosures
One more time for the people in the back: Tellus is not a bank. Tellus is not FDIC insured.
All user deposits held in cash are custodied by Chase Bank (aka JP Morgan Chase). There are no fees for opening or using Tellus; however your bank might charge fees based on their terms of service.
*Calculations as of August 2022; market value of collateral is subject to market forces, which can impact LTV ratios.
---