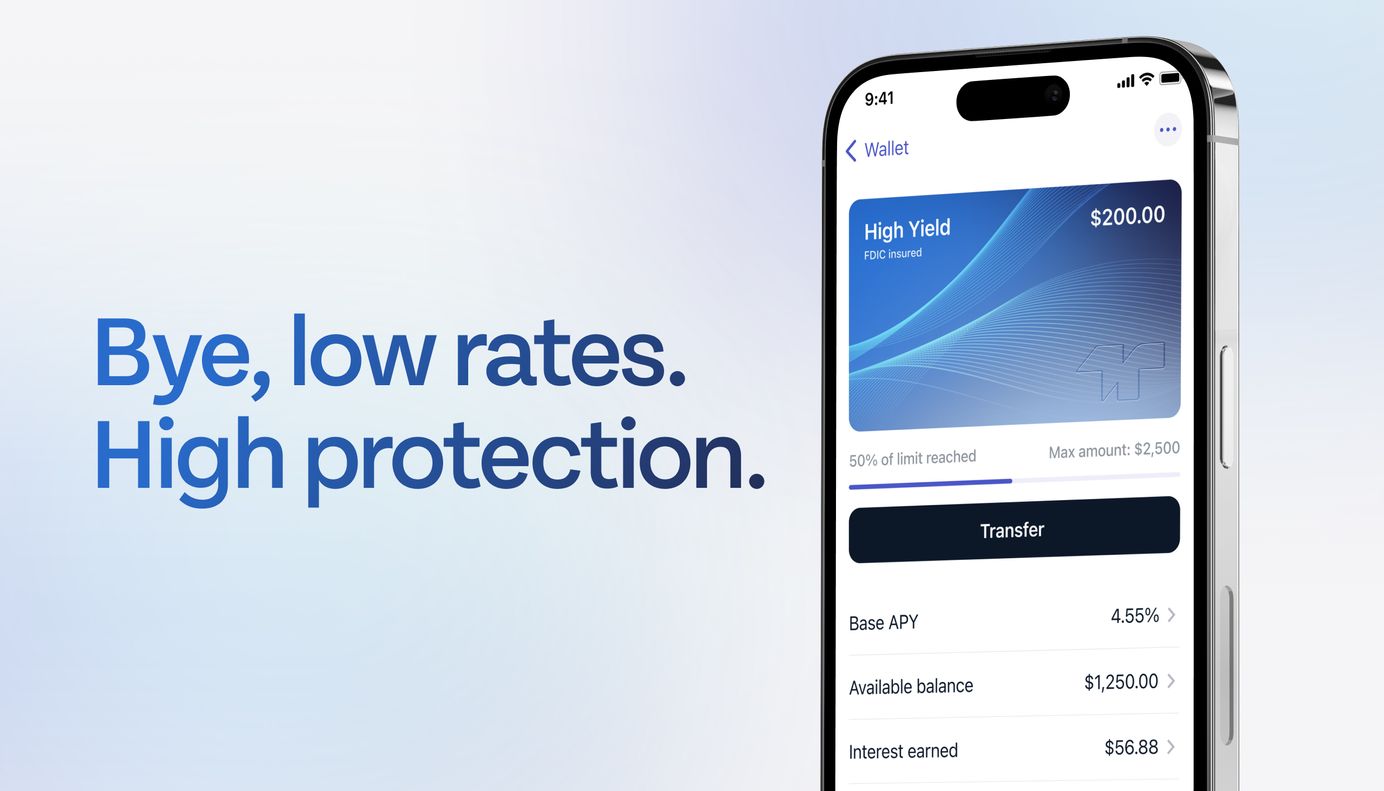 New! Build wealth with 4.55% APY and FDIC protection
You asked, we listened. We're excited to introduce the Tellus High Yield Account that offers a daily dose of interest payments and peace of mind with FDIC insurance.*
Now more than ever, people are looking for smart and secure ways to maximize their money. They want to build wealth responsibly.
Tellus is here to make simple wealth-building services more accessible, regardless of net worth. Don't have a yacht? So what. You deserve an easy and responsible way to build wealth. (But if you do have a yacht, Tellus can help you build wealth faster, too.)
We heard you
One of the most common questions we get is if our accounts come with FDIC insurance. The day has come!
Say hello to the High Yield Account
Build wealth like a pro with even more protection.
Earn 4.55% APY with FDIC insurance.*
Get paid interest daily.
Access your money and withdraw fee-free anytime.
Plus, stay secure with bank-level security (256-bit encryption) for your data.
An account with no strings attached
Opening and funding a High Yield Account is quick and easy, and there aren't any hoops to jump through. Because Tellus is not the circus.
All you need to start building wealth is $125, and we don't chip away at your savings with fees.
No transfer fees
No subscription fees
No membership fees
No lockup period
No direct deposit requirement
No need to open a credit card
High Yield vs. Boost
Both Tellus accounts have their benefits, but you don't have to choose between them. Take advantage of High Yield and Boost to make your money do the most.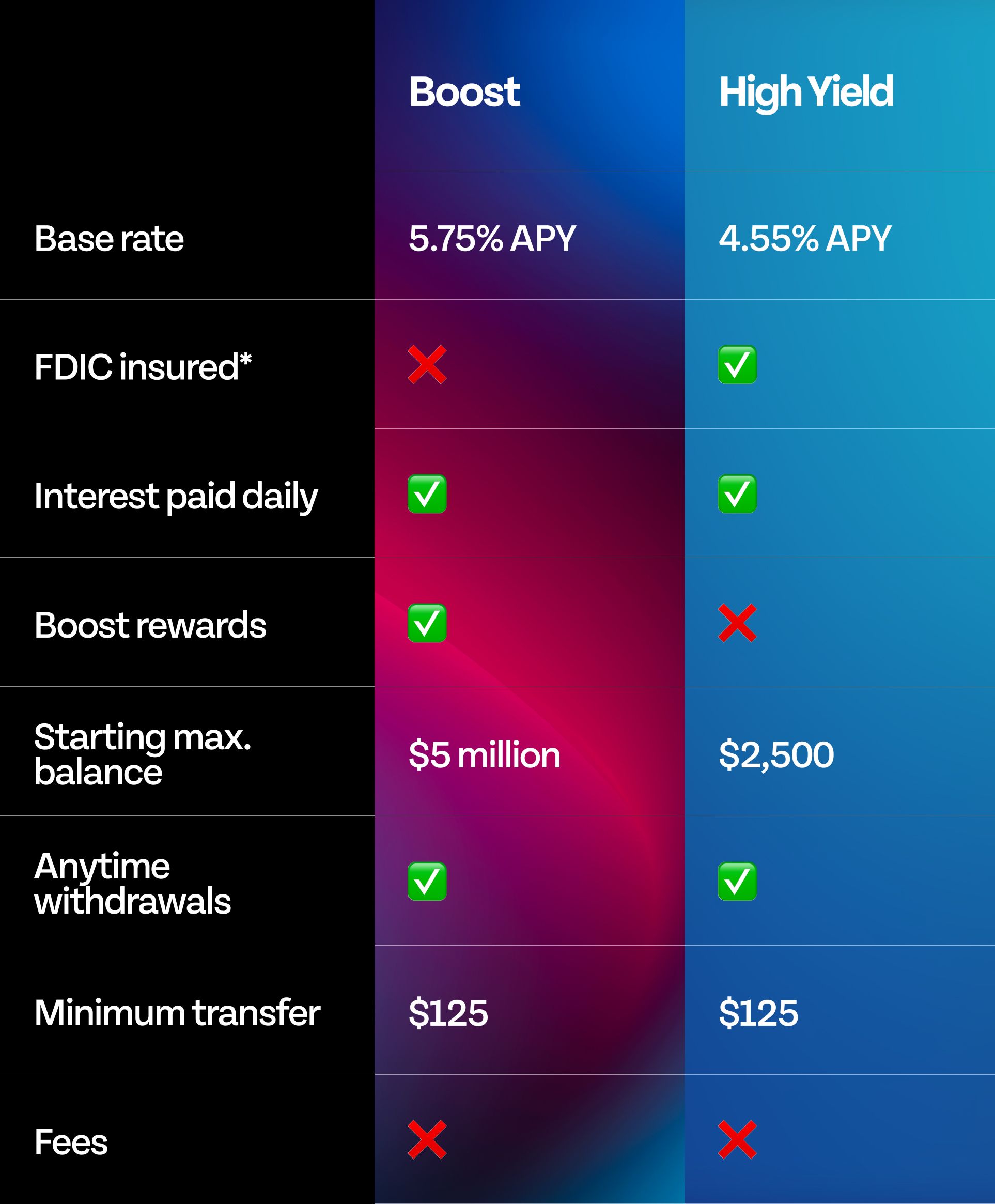 How can we offer FDIC insurance if we're not a bank?
Good question. Put simply, here's how your money receives FDIC insurance.
You make a transfer to your High Yield Account.
That money is moved to a participating Member FDIC bank where it is held in a separate segregated account for you.
Your money gets FDIC insurance through that bank.
As a reminder, FDIC insurance protects your money in case of a bank failure.
Tellus does high-yield differently
Welcome to the year 2023: Semi-decent concert tickets cost a small fortune, AI is writing things for us, and tech and data can be used to help technology companies keep costs down.
As one of those companies ourselves, we use the latest tech to maintain low costs so we can continue offering free wealth-building accounts.
We use Stripe and Riskified to prevent fraud, because fraud increases costs.
We use Prove, IDology, and Plaid to ensure we're lending to reliable borrowers, decreasing the risk of losses from a default.
As Tellus is a mobile app with no physical branches, we save on overhead and operating costs like rent and utilities.
The High Yield Account has a $2,500 maximum starting balance to keep costs down while providing a smart option for the 41% of Americans with less than $500 in savings.
In short, keeping costs down = more interest for you.
When you succeed, so do we
While there are other wealth-building options on the market, some of them are set up to make money off of you. For example, many fintechs rely on interchange revenue — the small portion of each credit or debit card purchase that's paid to the financial institution — which means they make money when you spend yours.
At Tellus, however, we designed our win-win business model to promote healthy financial habits (like saving), so people don't have to rely on credit cards and can leave behind the paycheck-to-paycheck life.
Ready to start building wealth responsibly? Get started with Tellus today.
*Funds of accounts, sub-accounts or features that offer FDIC coverage are only made available or provided via our relationship with Capital One. Capital One, N.A., is a member of the Federal Deposit Insurance Corporation (FDIC).
---