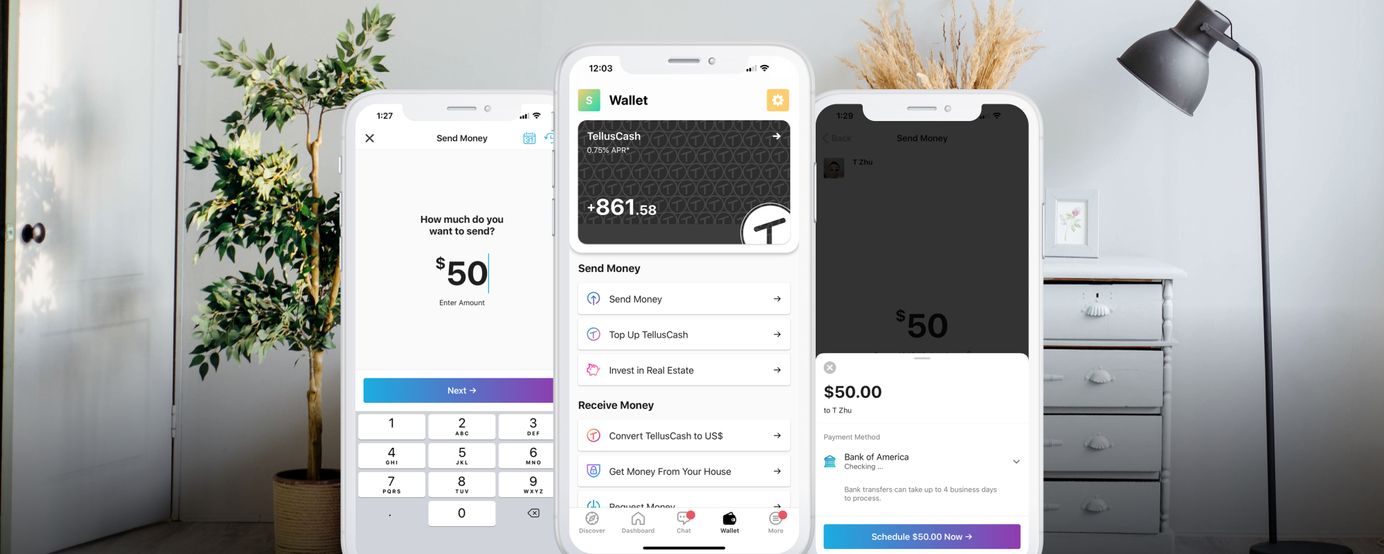 How to Pay or Reimburse Rental Property Expenses
See how easy it is to make quick payments from Tellus or reimburse your tenant.

Rent payments are just the tip of the iceberg when it comes to managing a rental property.
When choosing a payment processor, landlords and property managers need to consider whether or not it can meet their needs. Can your payment processor collect and hold a security deposit? Enforce late fees? Charge recurring pet rent or parking fees?
Read More: What Should Landlords Charge for Pets?
Beyond that, there are reimbursements to consider. If your tenant ends up paying the plumber or electrician, it's helpful to have an easy way to pay them back without deducting the amount from future rent payments. This way, you keep consistent records.
The Tellus Superapp with QuickPay
QuickPay allows you to make easy one-time payments and still keep great records.
The easiest way to send or receive one-time payments is through the Wallet.

From the Wallet, tap 'Send Money' to make a payment. Next, choose a contact and the amount you want to send.
To ask someone to pay you, tap 'Request Money.' Next, choose a contact and the amount you want to request.
Sending Money
When sending money, Tellus gives you the option to tag a home. This associates the transaction with a particular property. You can also add a note if you want to say what the transaction is for.
Tellus automatically creates a record of your payments you can refer to at any time. Since all records are searchable, tagging a home or adding a note makes the payment record easier to find.
Once you enter a payment recipient and an amount, select 'Payment Options' to choose how you would like to pay. Bank transfers are free, while credit card payments come with a 3.4% surcharge.
If you have an available TellusCash balance, then you can use your balance to make an instant payment with no added fees. Bank transfers take up to 4 business days, while credit card payments are processed that same business day.
If you want to set up a recurring payment for regular expenses that are not included in the lease (such as house cleaning or gardening), tap 'Edit Date.' You can set the payment to repeat every week, every two weeks, or every month.
Requesting Money
Once you've chosen an amount and a contact from whom you want to receive money, you can choose whether or not you want this request to be one-time or recurring.
To make a one-time request, tap 'Request.'
To schedule a request in the future or to schedule a recurring request, tap 'Edit Date.' From here, you can choose the date on which you would like to send the request. You can also choose to have the request repeat weekly, bi-weekly, or monthly.
Why Not Use Venmo?
While Venmo is helpful for splitting the bill at a restaurant, it doesn't give landlords the power they need for payments. Venmo will not keep good records. Your transactions cannot be categorized, and any records you have are not searchable.
For landlords managing their business, it's important to choose a payment processor designed for real estate.
---